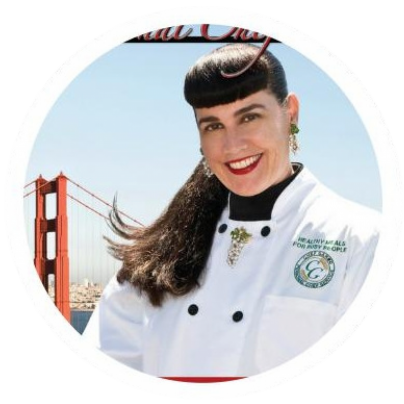 By Chef Garbo
March 12, 2018
St. Patrick's Day and All Things Irish
Why Do We Celebrate St. Patrick's Day?
There are many reasons to celebrate St. Patrick's Day. And it is indeed celebrated in a very big way around the world.
For me, St. Patrick's Day, is all about the food, the drink, and of course being a Catholic myself, it's about the religious meaning behind the Holiday.
This post will explore…
1. The history behind St. Patrick peppered with insights from my Irish friend Una.
2. The ways in which St. Patrick is celebrated and of course…
3. Showcase some traditional Irish meals.
A while back, I wrote a post about my Irish anger which is truly an Irish trait! But this time around, I did a little research on St. Patrick and found out all kinds of historical tidbits of which I was not aware. For starters, did you know that St. Patrick wasn't Irish? I sure didn't!
Fun Historical Facts About St. Patrick's Day
In the below diagram, you will find some interesting lesser known facts about St. Patrick's Day and how it came to be celebrated world wide:
Why St. Patrick's Day is Celebrated World Wide?
Why? Because it's a heck of a lot of fun! And a great excuse to eat, drink and be merry all day long!
In America, this day of celebration is commemorated with rollicking thanks to Irish immigrants in the United States and elsewhere. Over the centuries, St. Patrick's Day evolved from a solemn religious holiday into a secular celebration of all things Irish.
The below infographic visually illustrates what goes on in the United States on St. Patty's Day:
The Wearing of the Green

We've all seen folks wearing shamrock pins and green clothing. But my friend Una, who grew up in Ireland, said they don't wear green on St. Patty's day. Instead, they wear real shamrocks to commemorate St. Patrick who used the shamrock to illustrate the importance of the Holy Trinity.
Una also said that; "As a child, before leaving the house, mammy would have the small bunches of fresh shamrock wrapped in kitchen foil ready to pin to our coat lapels. Then we'd march off to Mass. Once Mass was over, the official business of the day was over and we could line up on the sofa to watch the St. Patrick's Day parade. Dad didn't believe in actually going to the parade if you had a better view watching it on the telly"!
Traditional Irish Dishes for St. Patrick's Day
In addition to donning the green, millions of folks will prepare a traditional St. Patrick's Day dinner ranging from corned beef and cabbage to shepherd's pie which includes the almighty potato.
To give you an idea of the many dishes you can prepare, I have selected 8 of my favorite Irish plates which would be great to serve on St. Patrick's Day.
#1 Corned Beef and Cabbage Sandwich
Did you know that corned beef and cabbage on St. Patrick's Day is American not Irish? It's true that cabbage is a staple of the Irish diet, but it was traditionally eaten along with bacon! The reality was that many Irish American immigrants a century ago could not afford bacon so they substituted corned beef.
Instead of a bland dinner of boiled corned beef and cabbage with potatoes, why not make it easy on yourself with a simple sandwich, with chips and plenty of beer! Get recipe here:
#2 Roasted Cabbage
If you must have cabbage on St. Patty's Day, here's a very interesting twist on the classic side dish… Oven roasted cabbage. It's simple and delicious! Get recipe here.
#3 Roasted Potatoes
We all know that the potato is an Irish staple. But the potato was not indigenous to Ireland; it was imported from the Americas.
I never quite knew the history behind the potato famine, but Una described it this way…"Ireland had a tenant farming agricultural system in the 1840's where the British were landlords and the Irish were tenant farmers. The Irish diet was mostly potato as they had to sell the other crops to pay their rent. When the potato crops failed, the farmers were forced to eat the very crops that they were selling to pay the rent. Eventually, they were kicked off the land for not paying the rent. Destitute, they no longer had a home or food so they starved or managed to emigrate."
Because the potato was so central in the Irish diet, it's not surprising that the Irish are quite adept at creating numerous renditions of the mighty potato. I particularly love roasted potatoes with parmesan cheese and you might too. Get recipe here.
#4 The Boxty
The Boxty is made almost entirely of potatoes, and was a cornerstone breakfast of the Irish diet beginning in the 1700's. This dish was inexpensive and filling for the poorer population which relied completely on potatoes to survive.
My friend Una, has fond memories of the Boxty as it was a special Sunday breakfast with her family growing up in Ireland and was associated with the "Holy day of Obligation". She said; "the kitchen is the center of the Irish house and an Irish mammy rules. You didn't get out of the house unless you had food in your stomach and your clothes were pressed."
Una also said that; "The St. Patrick's Day breakfast was the best of breakfasts! Boxty, a potato pancake and my favorite served with rashers and sausages, fried eggs, black and white pudding, (blood sausage), fried mushrooms and tomato, and all polished off with batch loaf toast with marmalade and a strong cup of tea!"
#5 Irish Colcannon
The colcannon is uniquely Irish. The dish is made with mashed potatoes, cabbage or kale and garnished with scallions, butter and cream. The word 'colcannon' is from the Gaelic 'cal ceannann' which literally means white-headed cabbage.
This dish was easy to prepare, filling and inexpensive for the hard working farmer in Ireland centuries ago.
These days kale is very trendy and I use it in many of my client's dishes. Who knew that this dish came from the Irish? Get recipe here.
#6 Shepherds Pie
My friend Una, said that St. Patrick was himself a Shepherd, and that her family, and the Irish in general, traditionally make shepherd's pie in honor of St. Patrick on St. Paddy's day.
Irish lore has it that shepherd's pie was the creation of frugal wives looking for different ways to serve leftover meat to their families in the late 1700's. Three hundred years later, we can all relate to that!
If you're looking for a St. Patrick's Day dinner to serve the family, consider a shepherd's pie as a tasty alternative to Irish stew or corned beef and cabbage.
Get recipe here.
#7 Beef and Guinness Pie
I have found some really tasty rustic Irish recipes that I prepare for my clients and family on a regular basis. One of the all time requested dishes is the classic Beef and Guinness Pie.  I would argue that this dish is truly gourmet and comforting all at once. Get recipe here.
#8 Irish Apple Tart
The Irish apple tart is different from the American apple pie in that the crust is sweeter with lots of butter, almost like shortbread. The spices are lighter too. The most interesting aspect about this tart is that it's made on an ovenproof plate not a pie tin.
Irish Folks Eating Irish Foods
If you want to get a chuckle on the Irish take of cliche Irish meals, then check out this video Una sent me!
Irish Workout Songs After Dinner
Naturally, after indulging on all the St. Patrick's Day celebrations which includes copious amounts of eating and drinking, you're going to want to hit the gym. So to make that effort more enjoyable and fitting for the St. Patrick's Holiday, why not work out to some feisty Irish tunes?
And on that "note", I wish you a very Happy St. Patrick's Day celebration!