How Chef Garbo's Personal Chef Service Works
A Personal Chef creates home prepared meals in the client's kitchen and typically services 10-15 clients. In contrast, a Private Chef cooks exclusively for one family and may live with the family.
Initial Consultation and Profile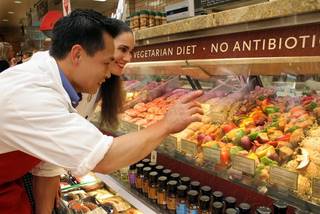 Chef Garbo is a Personal Chef who takes great care in cooking beautiful, nourishing, satisfying food for her clients. Above all, her service is very personal – tailored to the client's lifestyle, tastes, dietary needs … all the factors that contribute to memorable dining. As a personal chef, she handles all the work involved, from planning to shopping, cooking, and cleanup. As the client, you get to do the fun part … the eating.
The first step is getting to know each other. Chef Garbo will interview you over the phone to discover your overall goals and each family member's preferences, needs, and quirks. Next, she will e-mail you a detailed "Food Preferences Questionnaire" in advance of your in-person consultation so she can come to the meeting prepared with sample menu ideas based on your preferences outlined in the Questionnaire. Finally, she will schedule a cook date that works with your busy life style should you move forward with her service.
Dietary Requirements
Today many people are dealing with specific dietary requirements. This could be allergies or restrictions necessary for maintaining health, such as gluten-free or peanut-free diets prescribed by doctors. A particular dietary regimen such as a Keto, Paleo, Vegan, or Dairy Free diet is also a common request. In some families, family members may have different dietary requirements, which Chef Garbo can easily accommodate.
Over the years, Chef Garbo has worked with her client's Doctors and Nutritionists to determine every detail that is necessary to make sure you adhere to your dietary restrictions. And she has the tools to produce reports that she can send you each week that show the nutritional values per serving size when it comes to tracking Calories, Carbs, Sodium, Cholesterol, Sugar, and Protein etc. You'll have peace of mind knowing that your meals can be easily prepared within the strictest of guidelines in a snap! Below is a sample nutrition report that Chef Garbo creates each week for her clients with high blood pressure that need to restrict their salt intake and must be low in carbohydrates and low in calories on a per serving basis:
Food Preferences
Family members will naturally have their own food likes and dislikes. There may be certain foods to avoid or favorite foods to serve frequently. Some clients might want gourmet dishes every night, or a casual dish one night and gourmet fare the next. Some may want tremendous variety while others want their favorite soup every week. This is a personal chef service, so it's customized just for you.
And what if you have picky eaters in the house? Chef Garbo cooks for many families who like to mix things up when it comes to meal planning. If you want exotic spicy Indian Curries and kid friendly options on the same menu plan consider it done with Chef Garbo. And what exactly is a "Kid Friendly" meal? With Chef Garbo it's what ever you want it to be. It might look something like this: You like your Chicken Enchiladas with the sauce on the side and your kids don't like onions but everyone loves lots of cheese, Chef Garbo makes it happen just the way you want it. See below sample of a bi-weekly menu plan with adult and kid friendly menu options that Chef Garbo e-mails to her clients for approval before each cook date:
---
Sample Client Menu
Crispy Fish & Tartar Sauce
Crispy Pan Fried Cod Fish Coated in Panko Bread Crumbs with Home Made Tartar Sauce with Capers, Parsley and Horseradish
Servings: 4, Freezer
Tortellini Casserole with Meaty Sauce
Cheese Filled Tortellini Layered with Savory Tomato Sauce, Ground Beef, Monterey Jack and Cheddar Cheese
Servings: 4, Freezer
Tri-Tip Stir Fry or "Lomo Saltado" 4 (Whole Body Reboot)
Stir-fried Tri-Tip with Tomatoes, Onions, and Balsamic-Soy Chili Garlic Sauce
Servings: 4, Freezer
Curried Turkey Burgers
Turkey Burgers with Onions and Curry Powder, topped with Jack Cheese and served on toasted Buns with Curry Mayonnaise
Servings: 6, Freezer
Chicken Enchiladas
Rolled Corn Tortillas filled with Chicken and Cheese Topped with a Red Enchilada Sauce, Cheese, Black Olives, and Green Onions
+Gazpacho Soup (SCD Safe)
Hearty Gazpacho Soup with Tomatoes, Cucumber, and Green Bell Peppers, served chilled
+Fiesta Lime Rice
Rice with Black Beans, Corn, Scallions, Tomatoes, and Lime Cilantro Dressing
Servings: 4, Freezer
Download print version of client menu here
---
Or perhaps you want your kids to eat healthy meals like the adults do. That's easy because Chef Garbo always makes healthy organic versions of all your favorite comfort foods. She can even sneak in the leafy green veggies into the casseroles and the kids will never know!
Menu Planning
Each week Chef Garbo creates a highly customized menu plans tailored to your specific needs and reviews it with you to accommodate particular changes and requests you may have. If you change your mind or you find a recipe from your favorite food blogger no problem! Send the recipe link to Chef Garbo and she'll prepare it for you. You can even provide her with your grandmother's family favorite recipes that she might have prepared from vintage Gourmet Magazines!

The bottom line: Chef Garbo has a repertoire of thousands of recipes from which to choose. No restaurant, meal kit or meal delivery service can compete with this level of variety when it comes to meal planning!
As an experienced chef, she creates exceptional dining experiences and can easily make changes while maintaining the quality. Your family can have as much variety as they want, regardless of dietary restrictions and preferences.
Grocery Shopping
On your scheduled cook date, Chef Garbo shops for the freshest organic ingredients at Whole Foods before she arrives at your home. She knows how to plan meals to take advantage of seasonal produce. If you have your own favorite farmer's market, produce and meat purveyors that deliver to your home, Chef Garbo will coordinate with you to incorporate those ingredients into the menu planning process. Many meals can be prepared to be every bit as gourmet when reheated after freezing as they were when initially prepared. Gourmet meals that are fresh and healthy require meticulous planning and shopping, which Chef Garbo has down to a science.
Food Preparation, Packaging, and Cleanup
Award winning Personal Chef Garbo brings her own cooking equipment to your kitchen to prepare great food just the way you like it! She'll be in your kitchen for 6-8 hours cooking two weeks of meals, and then packing them up to serve later. Meals are packed and labeled with reheating instructions in convenient BPA-free containers and stored, organized by the meal, in the refrigerator and freezer. A full two weeks of gourmet meals will be prepared in a day, and you'll be all set for simple, healthy meals for the whole family. Chef Garbo wraps up each day of cooking with kitchen clean-up, leaving the kitchen spotless.
Ongoing Meal Planning Consultations
After each cook date, Chef Garbo leaves a menu list of your two week meal plan on your freezer door for your convenience and opportunity to leave valuable feedback on what you liked, didn't like or never want to see again. A quality Personal Chef Service is an on-going work in progress so it's critical that you let Chef Garbo know after each cook date how you are liking the meal plans. This way she can get dialed into your preferences. If the menu options are not fitting in with your busy lifestyle in terms of easy heating instructions, Chef Garbo needs to know this. Every client is different. Some of Chef Garbo's clients are so busy that they simply want all heat and eat options. Other clients enjoy a little cooking and food prep when it comes to fresh serve composed salads and pan seared meats. In this case, Chef Garbo might leave the marinated proteins in the freezer and fresh serve composed salads in the fridge that they can quickly prepare at the time they choose. Chef Garbo even provides her clients with beautiful photos with plating instructions so no one would ever know the meals were previously frozen. The end result is that her clients get the enjoyment of participating in a healthy dinner prep experience without all the hassle!