Chef Garbo's Story
Throughout my life, I have enjoyed creating beautiful meals with simple ingredients that dance on a plate. Food is more than nourishment. It should be revitalizing and exciting! I believe food it is an experience that can transport us to another place in time or another part of the world. It is the medium that brings friends and families together at the dinner table where some of life's most memorable moments are created.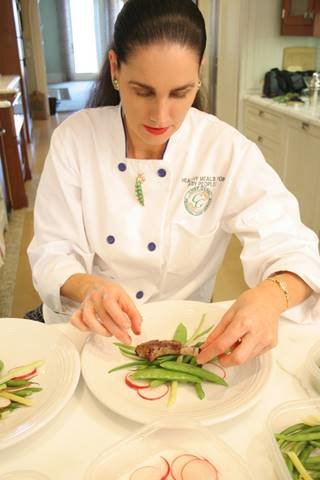 Growing up in a large family I learned the importance of showing up at the dinner table. This was the time where we shared our stories of the day, where we bonded and enjoyed wholesome meals together. Today, this simple pleasure is often lost in the shuffle of our busy schedules but I believe we don't have to live this way. I can help bring you back to the dinner table with enticing meals that give you the gift of time so you can enjoy a tranquil meal with those you love.
Helping Families Eat Better, Feel Better, & Free Up Valuable Time
So many families struggle with the hectic pace of juggling work, school, and the endless demands of modern life – often they find their health and family life suffer. Healthy, balanced food gives us energy, improved attitude and relationships, but planning meals, shopping, and cooking take time.
My mission as a Personal Chef is to make your life easier when it comes to preparing healthy home-cooked meals that taste as good as they look. I am all about sourcing organic ingredients and beautiful presentation. I can bring the fresh bounties of seasonal fruits and vegetables to your table or give you the opportunity to enjoy traditional favorites in new ways by incorporating locally grown produce like butternut squash or figs into your favorite stews and salads.
My dream is to help you enjoy dinner without the stress and noise from the outside world so you can have peace of mind when it comes to effortlessly putting dinner on the table.
I have been helping families return to the dinner table with delicious meals since 2005.
Plate a Meal Like a Chef
As an award-winning food photographer, I take great care in preparing beautiful meals that nourish and satisfy. I will even teach you how to plate a previously frozen meal so that it looks like it was prepared by a 5 star Michelin Chef! See examples on my dinner page. Yes, the meals I create for clients actually look like these.
Work with Chef Garbo & De-Stress
When you work with Chef Garbo your stress will melt away. This is because she puts herself in your shoes to understand your dreams and goals when it comes to life sustaining meals. She is masterful at delivering freshly prepared, gourmet quality dishes prepared in your own home. She can create entirely new culinary experiences for you by incorporating many international cuisines including French, Mediterranean, Asian, Thai, Mexican, Italian, Moroccan and much more into your weekly meal plans if that's what you want. Whether you prefer restaurant quality meals or just need comfort food after a busy day, Chef Garbo can do it all and leave you with a smile on your face!
Chef Garbo's Awards & Professional Affiliations
Photo of the Year and Website of the Year – Awarded by the United States Personal Chef Association (USPCA)
Culinary Institute of America, Napa, (Continuing Education)
Culinary Business Academy (Graduate)
ServSafe Certified (Safe Food handling recognized by the State of CA)
Licensed and Insured in the City and County of San Francisco
Premier Member of the US Personal Chef Association (USPCA)
Chapter Officer, USPCA Local Bay Area Chapter
Board of Directors, Las Trampas, Inc.
UC Berkeley Graduate, B.A. English Literature
Contact Chef Garbo to find out how she can create elegant, organic and reasonably priced dinner meals for you!