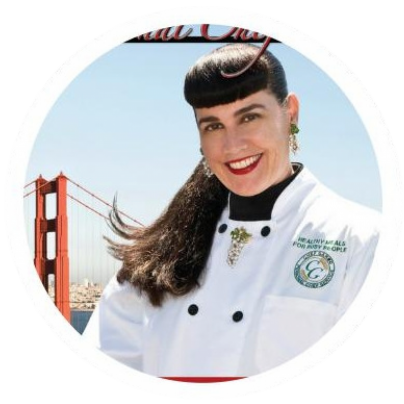 By Chef Garbo
March 4, 2014
I'm Irish. Black Irish with some Italian too… Probably have more Irish blood in me though. My mother's folks were Irish as was my Dad's mother. The signature trait that runs in my family is the infamous Irish temper. Thank goodness my mother's temper was short-lived. Like a flame, she would have a spectacular outburst of anger, and then it would burn out quickly as if nothing had ever happened. Most of the time she was a hoot and I miss her.
It's been said that all Celtic people have fiery natures and in ancient times the warriors constantly fought over bulls and beautiful women. It takes a lot to make me angry. And when I'm pushed to the edge I'm like a bull, but my fury is silent, and is manifested with a tell-tail runny nose. If you ever see that…Run for the hills!
Want to know what really makes me mad? A published recipe that hasn't been tested. You see it all time on the web, lots of beautiful looking recipes, but the end result is a lot of muss and fuss for a less than excellent dish. Well I'm happy to tell you that the below Beef and Guinness pie recipe has been tested by yours truly and it's wonderful.
Beef and Guinness Pie
Ingredients
2 pounds beef chuck (after fat is trimmed, cut into bite-size chunks)
2 tablespoons olive oil, plus more as needed
1 medium onion, diced (about 1 1/2 cups)
4 cloves garlic, crushed
2 medium carrots, diced
2 stalks celery, diced
1 1/2 cups homemade beef stock or store-bought beef broth
3 cups (24 ounces) Guinness
1 14-ounce can diced tomatoes, drained
3 tablespoons Worcestershire sauce
3 tablespoons A.1. Steak Sauce
Small handful each fresh rosemary, thyme, and flat-leaf parsley, finely chopped
2 tablespoons of flour combined with 2 tablespoons of soft butter (thickener)
Sea salt and freshly ground black pepper, to taste
1 sheet good-quality puff pastry (preferably Dufour brand)
1 large egg yolk mixed with a little milk
1 dash sea salt crystals for dusting crust (optional)
Directions
Toss the meat lightly with salt and pepper to coat. Heat 1 tablespoon olive oil in a large, heavy-bottomed saucepan or Dutch oven over medium heat. Working in batches, lightly brown/sear the meat on all sides, adding more oil to the pan as needed. Repeat until all meat is seared and remove beef to a bowl. Add the remaining tablespoon oil to the pan, along with the onion and garlic, and cook over medium heat until softened, 3 to 4 minutes. Add the carrot and celery, reduce the heat to medium-low, and cook for 5 to 6 minutes. Return the meat to the pan, then add the stock or broth, Guinness, canned tomatoes, Worcestershire sauce, steak sauce, and chopped herbs and stir, using a wooden spoon to scrape any bits stuck to the bottom of the pan. Taste for salt and pepper balance, then bring to a boil. Reduce the heat to low and gently simmer, uncovered, until the meat is tender and the sauce has thickened, stirring occasionally and skimming any fat from the surface, 1 1/2 to 2 1/2 hours. To thicken the stew combine 2 tablespoons of soft butter with 2 tablespoons of flour and add to stew. Bring to boil until thickened to your liking. Spoon the stew into a 7-inch-diameter ovenproof pot. Let cool completely. Preheat the oven to 400°F. Brush the outside edge of the pot or dish with water, then gently place the sheet of pastry over the stew, pinching the pastry against the edge of the pot or pie dish to seal. (lf you like, you can crimp the pastry to form a decorative edge.) Brush the pastry generously with the egg wash, dust with sea salt crystals if desired and bake for 30 to 40 minutes, until the pastry is risen and golden brown. Serve piping hot.