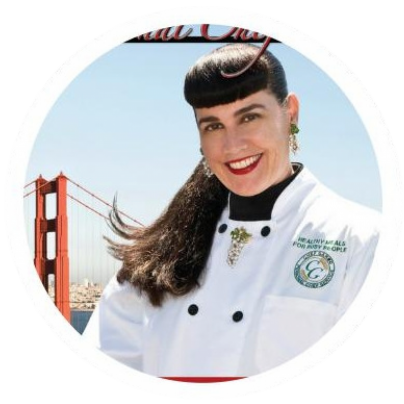 By Chef Garbo
February 6, 2018
7 Sexy Cocktails That Will Make You Blush

(For Valentines Day 2018)
Sexy cocktails for Valentine's Day are sure to get your true love's attention! What could be more seductive than a cocktail by the name of…
Silk Stockings or…
Between the Sheets or…
Sex on the Beach?
In this post, you'll learn how to shake up some passion with 7 sexy love potions guaranteed to win your partner's heart.
Plus, there are 3 videos on the history and techniques behind the cocktail.
And you'll find out about my bombastic encounter with world renowned Mixologist, Dale DeGroff. He's the guy who made the Cosmopolitan and Between the Sheets cocktails so popular in the 90s at the Rainbow Room in NYC.
Romantic Cocktails: (Updated for 2018)
Over the years I have posted a few Valentine's Day recipes and Cocktail recipes. So now I will consolidate many of them here in one easy read. (Updated for 2018)
Vintage cocktails and all the accoutrements that go with these libations have been my passion for years. In fact, I have quite a collection of vintage cocktail shakers, and cut-glass martini stemware. Because what is more pleasurable and stylish than the martini ritual?
Shaken not stirred please!
Meet the King of Cocktails – Dale DeGroff
Any self respecting Mixologist today should know the name Dale DeGroff. He single-handedly brought vintage cocktails back into vogue in the 1980s. Known as "King Cocktail" he gained mass popularity with his re-creation of the famous cocktail "Between the Sheets" which he served up at the Rainbow Room in NYC during the 80s & 90s.
And yours truly had the distinct pleasure of meeting Dale DeGroff doing his thing at this world famous Supper Club way back when.
Well, actually, I barged my way into the Rainbow Room by creating a scene.
Garbo's Bombastic Arrival at the Rainbow Room
The Rainbow Room, open to "members only", dates back to the 1930s. It's still a destination cocktail lounge today located atop Rockefeller Center.
One afternoon, years ago, I visited the Rainbow Room specifically to meet Dale DeGroff. Upon my unannounced arrival, I learned that it was closed. And members only were allowed in.
I was having none of that!
Getting into the Rainbow Room
I banged on the door and told the club manager that it was urgent that I see Dale DeGroff. The gate keeper was not amused. I said I traveled all the way from SF to NYC just to see Dale DeGroff. Sill not impressed, he tried to shoo me away. I expressed urgency by saying my plane was leaving in 3 hours and it was critical that I meet Dale DeGroff. Still no sympathy.
Then, nearly in tears, I blurted out that I was not leaving until I was able to have one cocktail made by Dale DeGroff… that it meant everything in the world to me. I begged him to please make an exception and open the doors for me.
That did the trick… I was in!
Garbo Gets her Cocktail!
Once at the bar, Dale DeGroff welcomed me and stated how impressed he was with my performance at the door.
We both had a belly laugh and quickly launched into a discussion about vintage cocktails and our vintage martini shaker collections. Not long after he asked how I got to be such a cocktail-o-file. I replied that I was seduced by his book "The NY Bartender's Guide" where I read all about the technique behind his signature drink Between the Sheets that he made popular once again. Here's a more recent book featuring the cocktail on the cover.
DeGroff Makes "Between the Sheets"
Soon he demonstrated how to make his signature Between the Sheets cocktail. He poured the ingredients in a shaker and shook it vigorously then slowly strained it into a martini glass. Next, he grabbed a sliced orange peel, lit a match, and squeezed the peel so that the oils spritzed through the match flame and left a fine film of caramelized orange oil over the cocktail's surface.
How sexy is that?
How to Flame an Orange Peel
If you want to learn the very cool technique of flaming an orange peel here's your chance…
7 Sexy Cocktails for Valentine's Day
Now it's time to get to the heart of the matter. How to seduce your sweetheart with a few beautiful, easy and romantic cocktails for Valentine's Day!
For maximum effect, I've provided some colorful concoctions in pink, blue and red that will lead you and your heart's desire down the amorous trail of pure palate pleasing joy.
Without further ado, here is my list of 7 Sexy Cocktails for Valentine Day:
#1 Silk Stockings
The cocktail, Silk Stockings, dates back to the 1940s and is oh so pretty! It's not typically served at cocktail lounges these days so it's an excellent pick if you want to romance your loved one on Valentine's Day. The featured ingredients are tequila, cream de cacao, raspberry liqueur and cinnamon.  See how it's made in the below video. Get recipe here.
#2 Between the Sheets
The Between the Sheets cocktail is another classic '30s cocktail that Dale DeGroff made famous at the Rainbow Room in NYC back in the '90s. Today, there's a better known variation of this cocktail called the Side Car which also dates back to the 1930s. Get recipe here.
#3 Sex on the Beach
The provocative name of this delicious cocktail originated as a joke. Legend has it that a young bartender back in 1987 created a concoction where he mixed peach schnapps, vodka, lime juice and grenadine. He was selling quite a few of them in the hopes of winning a local bartending competition.
When asked for the name of his cocktail he spontaneously called it "Sex on the Beach" He figured that the two major reasons why people flock to Florida during the summer break are for the beaches and sex. And there you have it.. Get recipe here.
#4 Maraschino Cherrytini
This lovely, layered, effervescent cocktail is a winner in the looks department. And it's made with champagne, the ultimate romantic libation. The way the layers of liqueurs separate in the fluted martini glass are sure to impress!
I used my grandmother's vintage 1940 etched-glass champagne stemware and chrome shaker to feature the colorful bubbly. First I poured in some maraschino cherry liqueur mixed with a little grenadine, then lime juice and finished with the champagne. If you can find such a glass, use it! Get similar recipe here.
#5 Flirtini
This sexy cocktail's claim to fame is from the hit TV show "Sex in the City". And it's only fitting to include it in the list of the top sexiest cocktails for Valentine's Day. Get recipe here.
#6 Blue Angels Kiss
When the Blue Angels come to San Francisco, I like to make this cocktail. I call it the Blue Angels Kiss. It would make a big statement for Valentine's Day because it has a kiss mark on the glass if you look closely.
Ingredients:  • 2 oz. vodka • 1 oz blue curacao • 5 oz grapefruit juice • Squeeze of fresh lemon juice
Fill shaker with ice. Add all ingredients. Shake and strain into martini glass. Garnish with a slice a lemon and a red lipstick kiss mark on the rim as shown in the above photo. Your sweetheart will love it!
#7 Strawberry Shag
This is a great large batch cocktail as well if you're expecting a big crew over for a Valentine's dinner. It's made with vodka, lime juice, strawberries and basil. An unexpected and refreshing taste combination! Get recipe here.
Conclusion
So now that you have a few sexy cocktails under your belt so-to-speak, the question is, will you dare to move forward with any of them? If so, I recommend that you at least try "Silk Stockings" after a romantic dinner which might just land you "Between the Sheets". And who knows? Maybe you'll make it to "Sex on the Beach" if you have the stamina. All I can say is that they're all good and will help you get to first base and beyond.
May you sip your way to a sexy Valentine's Day!
(Share the fun with your friends using the share buttons below)