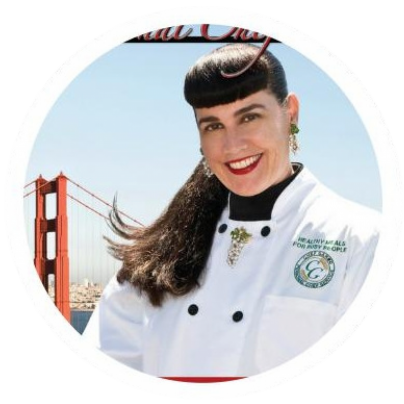 By Chef Garbo
February 8, 2016
Valentine Cake That Pops!
I've always liked the saying "Life is Short Eat Dessert First" and that will be the order in which I present my Valentine's dinner idea that is sure to please. My over the top cake idea is so easy it's laughable and totally fun to create using any type of candy toppings that you like. I chose a Bundt cake for its simplicity and filled in the center hole with peanut M&Ms which not only makes a sturdy base to hold the heavy lollypop but adds drama at slicing time as the M&M's cascade out of the center like a water fall. If you have kids in the house they'll love it!
For the Chocolate Bundt Cake
2 cups sugar
1 3/4 cups all purpose flour
3/4 cup unsweetened cocoa (best quality available)
1 1/2 teaspoons baking powder
1 1/2 teaspoons baking soda
1 teaspoon salt
2 eggs
1 cup whole milk
1/2 cup vegetable oil
2 teaspoons vanilla extracts (best quality available)
1 cup boiling water
Directions
Heat oven to 350 degrees. In a large mixing bowl, stir together sugar, flour, cocoa, baking powder, baking soda and salt. Add eggs, milk, oil and vanilla.  Beat on medium speed for one minute.  Stir in boiling water (the batter will be thin, don't worry, this is right). Fill a Bundt pan with batter.  Bake for approximately 35-50 minutes or more until a wooden pick inserted into the center of the cake comes out with a only a few crumbs. Cool completely on wire rack before frosting.
For the Glaze & Candy Decorations:
1 cup powdered sugar
2-3 tablespoons milk (or more)
2 tablespoons raspberry extract
1 drop red food color paste (go easy to get a pink color)
Candy assortments of your choice (M&Ms, Tootsie roll pops, Hershey's Kisses)
Directions:
Whisk glaze ingredients together in a small bowl until smooth. If the glaze is too thick, add more milk. If it's too thin, add more powdered sugar. Using a spoon carefully drizzle on cake to get the desired drip effect to your liking. After glaze has set, arrange your candy decorations starting with the taller pieces towards the back (chocolate shards, suckers etc.) and finishing with smaller elements to create balance and movement. Fill in with the rest with cookies or candies and other sweets. Try to work with odd numbers and to place things asymmetrically. You can add as much or as little embellishments as you like.
Thai Green Curry with Chicken Created by Pich Wongprayar
And now for the main event. Over the Holidays our family enjoyed a delicious Thai green curry recipe made by Milk, a foreign exchange high school student living with my sister's family back East.
Milk, (aka Pich Wongprayar) was raised in northern Thailand in a town called Phayao. She's been cooking since she was 7 years old as she help her Dad out in the kitchen growing up. Milk's Dad also learned how to cook at a young age. He was taught by his grandparents and it was his daily responsibility too cook meals for his brothers and sisters while his grandparents worked a great distance away from their home. In his college years, Milk's Dad loved to cook for all his friends too. Like her father, Milk enjoys cooking classic Thai dishes like curries, fried rice and veggie stir fries. Milk stated that it's a Thai tradition that every girl must learn how to cook in order to get married… YIKES. Well, I can tell you that she has learned well and treated my family to some lovely Thai green curry! I watched her carefully while she made the dish and adapted her recipe to my liking.
This one dish wonder will satisfy as it's packed with healthy protein and veggies along with that wonderful aromatic sweet-heat combination for which Thai cuisine is famous. All you need is a rice side and voila! You have dinner in a heartbeat for your Valentine.
Thai Green Curry
Servings:  4
1 pound chicken breast, boneless, skinless, stir fry cut
2 6 oz. jars of Thai green curry paste
1 tablespoon coconut oil
8  ounces Shiitake mushrooms, sliced (authentic Thai ingredient: green brinjal)
1  medium red bell pepper julienne sliced for garnish
1/2  teaspoon salt
2 1/2  cups coconut milk
1/2  cup water, for thinning curry
2  medium kaffir lime leaves (optional)
1 1/2  teaspoons brown sugar (authentic Thai ingredient: coconut palm sugar)
1 1/2  teaspoon fish sauce
1/4  cup basil, fresh leaves, whole, garnish just before serving
4 small red chili peppers, garnish, just before serving
1 tablespoon scallions, sliced thin for garnish
Directions:
Slice the chicken into thin pieces, about 1/3″ (3 cm) thick. Sauté the green curry paste in coconut oil over medium heat in a wok or sauté pan until fragrant, reduce the heat, gradually add 1 1/2 cups of the coconut milk a little at a time, and stir until a film of green oil surfaces and a slightly thick consistency is achieved. Add the chicken and kaffir lime leaves, continue cooking for 3 minutes until fragrant and the chicken is cooked through. Transfer to a large pot, place over medium heat and cook until just boiling. Add the remaining coconut milk, season with palm sugar and fish sauce. When the mixture returns to a boil add the mushrooms, red bell peppers and remaining ingredients. Cook until they are done, about 5 minutes. Ladle into soup bowls, garnish with sprinkles of sweet basil leaves, red chilies if desired and serve.