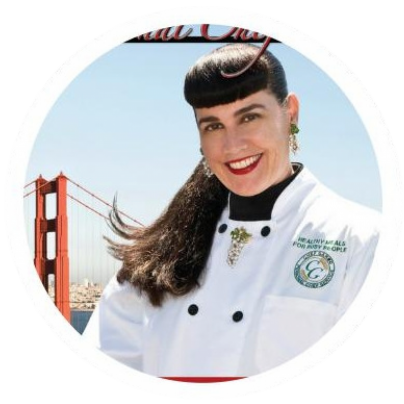 By Chef Garbo
December 2, 2017
The Christmas Cookie – 9 Easy Recipes for the Holidays
The Christmas cookie is my passion during the Holidays. Below are 9 easy recipes…
Over the years I have posted several articles on decorating Christmas cookies and their place in the tradition of Christmas. After all what would Christmas be without the classic Christmas cookie?
During the Holidays the Christmas cookie dominates the covers of hundreds of food magazines and flood the online recipe sites. It can be down right overwhelming with all the countless Christmas cookie recipes!  To make your life a little easier, I have chosen 9 easy Christmas cookie recipes that have stood the test of time with my clients and family.
Without further ado, here are 9 easy Christmas cookie recipes that will beautify your Holidays and might even become traditional classics in your family too.
#1 Sugar Snowflake Cookies
Today the Snowflake sugar cut-out cookie rules. Whether you make them from scratch or get store bought cookie dough, the festive ritual of the family gathering round the table to decorate cookies for Santa has become a must do tradition year after year. Get recipe here.
#2 Gingerbread Man Christmas Cookies
The gingerbread man cookie has a rich history. During the 16th century, Christmas biscuits grew in popularity across Europe which included lebkuchen (a traditional German baked Christmas treat that resembled gingerbread), the papparkakor (a ginger snap) which was popular in Sweden and in Norway it was the krumkake (thin cylindrical lemon and cardamom scented waffle cookies) that were all made at Christmas time. Get recipe here.
#3 Chocolate Crinkle Cookies
The Chocolate Crinkle cookie is super easy, tasty and very pretty as well. I like the chewy chocolaty light flavor they are famous for. The inside is gooey and soft, the outside is just slightly crispy and coated with a layer of powered sugar that will leave you dusted with happiness. Get recipe here.
#4 Stained Glass Sugar Cookies
I've seen a few stained glass cookie flops across the Internet and in my own oven. Believe me, I have done my homework on this beautiful cookie and have found that Jolly Ranchers work better than Lifesavers (but Lifesavers will suffice in a pinch); A non-spreading roll out sugar cookie is imperative so I developed a gluten-free version that is sturdy and tasty. See Garbo's Gluten free recipe at end of this post. Get recipe here.
#5 Christmas Snowball Cookies
Most people refer to these delicious cookies as Mexican Wedding Cakes. Since I was young I have referred to them as Christmas Snowballs because they look just like snowballs covered in powdered sugar! This style of Christmas cookie is easy and delicious. Get recipe here.
#6 Cookies and Milk for Santa
In the United States, the tradition where children leave cookies and milk out for Santa on Christmas Eve dates back to the 1930s. The cookies were often cut into Holiday shapes like candy canes, stars, snowflakes, gingerbread man, and Christmas trees.
The above image is typical of what my family creates every year as we  all artists and we take cookie decorating very seriously at Christmas time. When the decorating if finished, our niece Remi,  picks the prettiest cookie of the batch and leaves it for Santa. Then she rushes off to bed anxiously anticipating the next morning where she can behold her bounty of Christmas gifts.
Another super time saver is to bake your favorite cookie and dress it up on a beautiful cookie platter with Christmas ornaments and ribbons.
#7 Easy Short Cut Cookie Decorations – Chocolate Frosted Oreos
If you find you're pressed for time then you might try the baker's short cut by decorating chocolate frosted Oreo cookies as pictured in the above photo. It takes very little time and the kids will love it! All you need is a frosting bottle which you can get at your local store and a package of dark or white chocolate frosted Oreo cookies and you're ready to go!  Get recipe here.
#8 Easy Christmas Chocolate Chip Cookies
Another super time saver when you can't even manage decorating a ready made Oreo cookie is to bake the classic chocolate chip cookie and dress it up on a beautiful cookie platter with Christmas ornaments and ribbon as pictured above. Get recipe here.
#9 Easy Oatmeal Christmas Cookies
And of course my all time favorite is the healthier oatmeal cookie for Christmas.
Get recipe here.
Make your Holidays more festive and colorful with these 9 easy Christmas cookie recipes today! And for a little more effort, check out Garbo's Gluten free sugar cookie recipe below:
===========================================
Garbo's Signature Stained Glass Sugar Cookies with a Hint of Orange (Gluten-Free)
Servings: 40
FOR THE DRY INGREDIENTS:
3 cup(s) white rice flour, (Bob's Red Mill Brand) or (Rainibow Supermarket bulk flour… see notes below)
1 teaspoon(s) cream of tartar
1 teaspoon(s) baking soda
3 teaspoon(s) xanthan gum
1/4 teaspoon(s) salt
1 cup(s) butter
1 teaspoon(s) orange, extract oil
1 medium Hard Candy, 1 bag of hard candy such as Lifesavers or Jolly Ranchers
1 medium straw, hole punch for ribbon to hang as tree ornament. Squeeze/pinch dough out while moist.
FOR THE WET INGREDIENTS:
1 cup(s) sugar
2 medium eggs, cold
1 teaspoon(s) orange, extract oill
FOR THE ROYAL ICING:
2 cup(s) confectioners sugar
4 teaspoon(s) Meringue Powder
1/4 teaspoon(s) cream of tartar
1/4 cup(s) warm water
1 drop(s) food color, food color past from Sur Le Table
1 tablespoon(s) orange, extract oil
Directions:
FOR THE DRY INGREDIENTS
Using an electric mixer combine the rice flour, cream of tartar, baking soda, xanthan gum and salt. Mix well. cut
in the butter until the mixture is in crumbs the size of peas.
FOR THE WET INGREDIENTS
In a small bowl beat the sugar, egg, and maple extract (or other flavoring) together. Add this mixture to the dry ingredients and mix until the dough pulls away from the sides of the bowl. Put the dough disk between 2 sheets of wax paper and moisten counter top slightly with damp cloth so wax paper won't slide and roll the dough to ¼ inch thick. Place rolled dough in freezer for 5 minutes to firm up before making the cutouts.
Once sufficiently quick-chilled, cut out large maple leaves and place on cookie sheet. Working quickly while dough is still firm, use smaller maple leaf and make the center cut from the large leaf. Place one piece of hard candy in center of cut-out. (Werther's Brand) works well. If desired, use straw to cut out small hole in top of maple leaf so it can be hung by a window or on a Christmas tree with a piece of ribbon.
FOR THE ICING:
Combine Royal Icing ingredients in bowl and beat with electric mixer on low speed until combined. then on high speed for 7 to 10 minutes or until very stiff. Add 1 to 2 tablespoons additional water, 1 teaspoon at a time to make a glaze of desired consistency. When cookiest, use squeeze bottle or pastry bag to make an outline on the outer edge of the cooking. Then squeeze in the filling area frosting from squeeze bottle. Use knife to pull the frosting towards the center and spread icing evenly across cookie surface. This technique ensure a clean outer
DOUGH NOTES:
This dough is very sturdy and does not spread like most wheat flour based recipes making it perfect for stained-glass cut outs.
HARD CANDY NOTES:
Jolly Ranchers are very chewy and could pull a filling so do warn your clients about this type of candy. The lifesavers are easier on the teeth when chewing but the colors are not as vibrant and translucent as the Jolly Ranchers. There is no need to crush the candies like many recipes suggest. For life saves use 1 1/2 pieces. Use 1 Jolly Ranger for each cutout.
RICE FLOWER NOTES:
Sweet White Rice Flower from (Rainbow Supermarket SF) … punch hole in dough with straw before cookies go into the oven. Regular "White Rice Flower" from Bob's Red Mill punch hole in dough immediately after the cookies are removed from the oven while still hot. Clean the straw of dough by squeezing/sliding the straw with fingers so dough bullet shoots out the end.
BAKING TIMES & COOKIE CUTTER SIZES
For Star shaped cookies use largest and smallest star cutters. For heart shaped cutters use 3rd largest and 2nd smallest. If using one cookie sheet in the oven the baking time is 12-14 minutes for 2 trays the baking time is 18-20. Make sure dough is well chilled and use spatula to move cookie cut out to baking sheet. Use a straw to punch the hole for the ribbon before baking (rice flower holds it shape during baking with minimal spreading). Use toothpick to remove the center cut out.
ICING COOKIE TIPS:
When icing cut out cookies, use squeeze bottle to make an outline on the outer edge of the cookie. Then squeeze in the filling area with icing in zigzags to evenly distribute the icing… Use knife to pull the frosting towards the center and spread icing evenly across cookie surface. This technique ensures a clean outer edge with minimal smudges. To make a swirl design fill in the icing area with icing, then use contrasting color by squeezing a circle in center. Use tooth pick and start in center of dot and pull out in half circle motions to get a beautiful design.
Recipe by Chef Garbo (www.dev.chefgarbo.com)