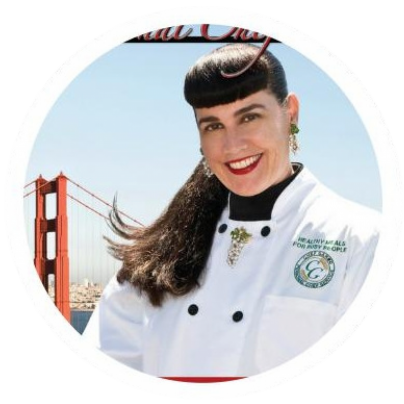 By Chef Garbo
December 4, 2009
The Holiday Season is here and the warmest gift with the biggest impact has got to be the classic Holiday cookie tin filled with hand made Christmas cookies! The recipes you use may be sentimental favorites, dripping with icing and sprinkles, or more sophisticated, but whatever the cookie, a festive tin of freshly baked treats makes a tasty and thoughtful present, in keeping with the spirit of the season.
If you're the sane type who dusts a sugar cookie with sprinkles and calls it a day, you can stop reading right now. If, on the other hand, you are a crazy person like me who decides that elaborately decorated cookies are an essential part of the holiday experience – the kind of baker who reserves an entire weekend for baking and decorating into the wee hours of the night with tweezers in hand, placing silver dragees on the snowflake cookie, then read on.
About 6 years ago I started a new tradition with my family. I create festive Christmas cookies to give as gifts because they're such an artistic personal gesture and folks really admire them, especially my clients. More importantly, the cookies can be hung on the tree as ornaments. How fun is that? Each Christmas Eve after a sumptuous dinner of Beef Wellington and Garbo's hand made Raviolis (passed down by my Grandfather) my family prepares the dining room table for the annual "Christmas Cookie Decorating Contest". Because a very strong artistic streak runs through all of the Garbarinos, it's truly a competitive event. The competition is to see who can create the most beautiful cookies before Santa's arrival at midnight. My 10 year old niece, Remi, a fierce competitor, usually changes the rules as we go to ensure that she will be the winner. My 3 older brothers Paul, Tim & Thad, my Dad, my husband Karl, my sister Alexa and her  husband Tom and I join in the fun too. The clock stops at 11:30 p.m. sharp, and of course, Remi gets to choose the cookies to give to Santa along with her note and off to bed she goes.
The stand-out cookies last year were the "Stained Glass" & "Hand Painted" gluten-free sugar cookies. When I unveiled them, a resounding "Ooooooh look at those… how'd you do that?" was uttered by everyone. I have adapted my recipe from several wheat flour & rice flour based sugar cookie recipes and from numerous tests to create a fool-proof cookie that is tasty, sturdy, gluten-free and doesn't spread in the baking process.
So the next time you want to bring your family together or wow your clients, whip up some crowd pleasing Stained-Glass Christmas cookies… that is, of course… if you make the time!