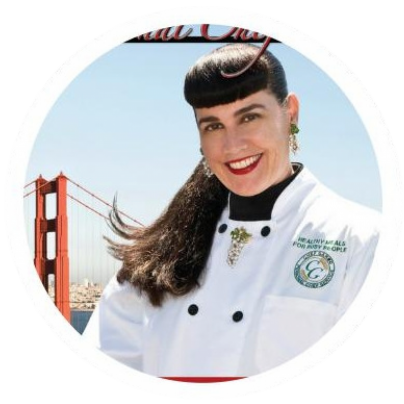 By Chef Garbo
February 4, 2012
Gourmet Magazine Blog Post
POSTED ON FEBRUARY 20, 2012 BY KELLY SENYEI
We came across personal chef Claude Garbo's Gourmet magazine styling series and couldn't resist sharing a sneak peek with you. Chef Garbo finds inspiration from her collection of Gourmet magazines dating back to the 50s and 60s, replicating the food and styling setups of the iconic covers, such as the beignets pictured above.
Chef Garbo selects the dishes to replicate based on the food she prepares for her clients, as well as on the vast array of vintage cutlery and serving dishes she's collected over the years. She uses natural light to capture the true essence of each meal, from the perfectly placed cocktail glasses to the artfully styled ingredients.
Just as Chef Garbo has drawn inspiration from iconic Gourmet recipes, you too can share in the memory by entering our Gourmet Retro Recipe Remix. Head over to our Facebook Contest page for more details and to enter for your chance to win five Gourmet Special Edition cookbooks!
7 RESPONSES TO PERSONAL CHEF REMIXES ICONIC GOURMET COVERS
Paula K.
February 22, 2012 at 5:18 am
To see a vintage Gourmet cover brings back warm memories of reading these magnificent magazines. How refreshing to see a new take on an old cover, but with the same eye for quality and style. Great work Chef Garbo!
Renee Coker
February 22, 2012 at 3:44 pm
I love Chef Garbo's photography – beautiful vintage foodscapes. She has other Gourmet Magazine shots that are terrific as well. Her website features a Dutch Masters look that is very evocative of the time and sumptuous. Really fun! Bravo Chef Garbo.
Lloyd Foster
February 25, 2012 at 4:18 am
If you seek to complete your collection of this wonderful publication or give an anniversary or birthyear gift, a friend and have completed our collections of Gourmet and amassed many duplictes in the process. We have many annual volumes bound by the publisher and complete with annual index along with many years in the meatl spine binders form Gourmet and loose issues dating back to the early forties.
If interested, contact lfoster@classicwineimports.com
Emily
February 28, 2012 at 2:03 pm
LOL, I'm in the midst of a very similar project, albeit not as, well, gourmet.
I'm cooking all of the dinners from the 1972 recipe card series Dinner is Served! and then photographing them.
http://www.yinzerella.wordpress.com
margaret robertson
March 1, 2012 at 10:24 pm
I just wish Gourmet was still publishing. There is no magazine today that comes close to the quality of the Gourmet magazine before the editorial change. I miss it every time I cook. Not having such great stories and photos makes cooking far less inspirational. I cook a lot, an average of 60 minutes each dinner and often more for special dishes. Gourmet was a constant companion , and unlike other magazines , I never made a recipe that didn't turn out beautifully the first time. I really miss it as does my daughter, who at 22 cooks often from my old Gourmets and made her first real recipe attempt after the sight of the flourless chocolate cake with raspberries cover. She was 6 and after having help getting out the ingredients , made it herself, as a surprise for us, in the kitchen of an adult friend of hers. The friend was astonished as were we, and our daughter was so happy and proud. It looked just like the cover and tasted astonishing.
vdell
March 2, 2012 at 2:11 pm
How sad that we no longer have Gourmet Magazine. I read it since my Dad subscribed in the early 1950s until it ceased pubication. The internet version is no substitute for sitting down with a cup of tea to read about travels, foods, and above all, recipes that were dependably good.
psutcliffe
March 3, 2012 at 5:44 pm
I couldn't agree more with the prior posts: Gourmet Magazine… there is no substitute
On a number of levels:
– recipes from the deep dives into master preparations to the quick meals always offered a range of opportunities
– photography and styling were beautiful and inspiring
– travelogues took you there with detailed account of the minutiae that make those experiences come alive
– trends, restaurants, gadgets, techniques, drinks/wine, etc. were well presented
Will give credit where credit is due, Bon Appetit, has improved but I doubt it will ever reach the pinnacle that Gourmet held for decades. It is sorely missed and despite efforts by Conde Nast to keep it alive online and through special releases, they would be well served to bring the publication back to its full format. I would pay double the subscription and sure many others would as well.