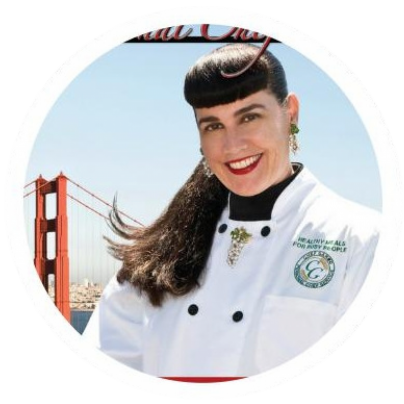 By Chef Garbo
December 11, 2015
As a Personal Chef in San Francisco I can't believe it's the Holidays and Christmas cookies rule! This year I'm excited to share some of the best Christmas cookies ever and have stood the test of time!
Russian Christmas Tea Cakes
The origins of Russian Tea Cakes are not quite known but it is speculated that this simple shortbread cookie migrated from Eastern European countries to Mexican via European nuns and today they are commonly associated with Christmas or weddings. All I know is that they are delicious and melt in your mouth.
Servings: 24
2 1/4 cups flour
1/4 teaspoon salt
2 cups butter, 2 sticks
1/2 cup powdered sugar
1 teaspoon vanilla extract
3/4 cup hazelnuts, toasted
Directions
Sift flour and salt together. Using electric mixer, cream butter in large bowl until light. Gradually add 1/2 cup sugar and beat until fluffy. Add vanilla. Mix in dry ingredients in 3 batches. Mix in hazelnuts. Refrigerate at least 1 hour or up to 12 hours. Preheat oven to 400°F. Form dough into 1-inch balls. Space 1 inch apart on ungreased cookie sheet. Bake until just firm to touch, about 15 minutes. Transfer to rack and cool slightly. Roll in powdered sugar. Cool completely. Roll cookies in powdered sugar again. Store in air tight container.
Chocolate Bundt Cake

If you're really pressed for time but still want to have an impressive looking Holiday cake, then look no further than Pamela's Gluten Free cake mixes that can be purchased at Whole Foods shown above. It's super moist and tasty. Just drizzle with your favorite glaze.
The classic Crinkle cookie originates from Europe and have become a favorite among children because of their soft puffy texture that makes them irresistible. And they're quite healthy made with 75% cocoa powder, a powerful anti-cancer ingredient but best of all they taste great!
Chocolate Crinkle Cookies
1 cup unsweetened cocoa powder
1 1/2 cups white granulated sugar
1/2 cup vegetable oil
4 eggs
2 teaspoons vanilla extract
2 cups all-purpose flour
2 teaspoons baking powder
1 teaspoon espresso powder (optional)
1/2 teaspoon salt
1 cup confectioners' sugar
Directions:
In the bowl of an electric mixer fitted with the paddle attachment (though you can do this with a wooden spoon, too) beat together the cocoa powder, white sugar, and vegetable oil until it comes together into a shiny, gritty, black dough of sorts.  Add the eggs, one at a time, mixing for 30 seconds each. Add the vanilla and beat in thoroughly. In a separate bowl, whisk together the flour, baking powder, salt, and espresso powder if using. Mix into the chocolate mixture on low speed until just combined. Do not overbeat. Cover the dough with plastic wrap and chill the dough for four hours or overnight. Preheat the oven to 350°F and line two baking sheets with parchment paper. Place the confectioner's sugar in a wide bowl. Using a rounded teaspoon get clumps of the chilled dough and roll them into 1-inch (2.5 cm) sized balls using your hands. Roll the balls in the confectioner's sugar and place on the cookie sheets (you should be able to get 12-16 on each sheet). Bake for 10-12 minutes. Allow to cool a minute or two on the sheets before transferring to a wire rack to cool completely.