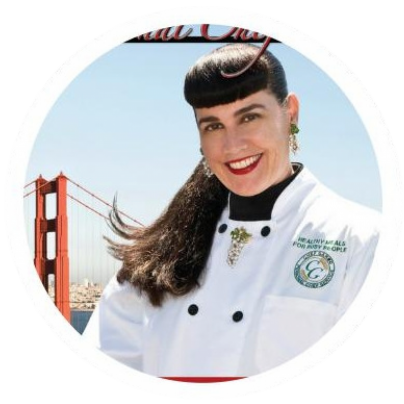 By Chef Garbo
March 4, 2011
FULL STORY: GARBO'S EUROPEAN FOOD TOUR PART: II PARIS
By Chef Garbo www.dev.chefgarbo.com
Paris is very seductive. How can one not fall in love with her at first sight? Its history is rich, the people are stylish, its architecture distinctive, artists are drawn to it and the cuisine is heaven on earth. There is an ethereal quality about Paris where beauty and elegance are preferred over purpose and practicality.
With this second installment of my European Food Tour (see Part I Florence) I can assure you that there was nothing practical about my food experience in this alluring city. It was pure indulgence in the glorious culinary realm for which Paris is famous. I'm talking about the appreciation of food as a high art form better known as at haute cuisine.
My friend Renée Coker knows Paris like the back of her hand and has traveled there many times in recent years. When we compared notes on where to dine, I found that her recommendations were right on the money… literally. As mentioned in my first report on Florence, we chose to make our lunch meals the main event of the day so we could indulge ourselves with rich and elaborate meals and walk it off during the afternoon… and all this without busting our budget!
Our first stop was the Goumrad Restaurant. This restaurant was founded in 1872 and is loaded with deep sea charm. It features original oak woodwork, with dazzling Lalique chandeliers and brilliant crystal fish floating in faux glass aquariums and other lighting designs that give this establishment its unique aquatic style. Goumrad specializes in seafood prepared purely and simply and is flown in daily from Brittany. The purist philosophy held by the owner is that "everything comes from the sea" and is so entrenched that entrées other than fish are scarce on the menu. We started with deep-fried frog legs and escargot in garlic parsley butter sauce, two appetizers that I have never prepared and are not typical offerings on American menus. Both were simple and delicious. I finished the meal with grilled John Dory on a bed of ratatouille. Renee's entrée was served on a beautiful rectangular white plate featuring salt rock cod with poached white turnips in a white cream sauce and a sprinkling of black caviar. Goumard is considered one of the finest seafood restaurants in Paris so the next time you're craving Mediterranean influenced seafood dishes with subtle and delicate sauces, Goumard will surely be the catch of the day!
If you only have a few days in Paris like we did, a visit to Le Soufflé is a must! Le Soufflé, which is situated in the 1st arrondissement, is just a 10 minute walk from the Louvre and is nestled between Place Vendôme and Metro Concord. According to a food blog I read, the famous French impressionist, Claude Monet, used to study the master painters on display at the Louvre then take his noon day meal at Le Soufflé. There is nothing more quintessentially French than the famed soufflé. This dish is frequently served as a dessert, but at this fine establishment, the savory soufflés are abundant. Renée ordered the wild mushroom soufflé with cheese sauce and I opted for the dessert soufflé. I started with the Margret de Canard (Roast Duck) with an orange reduction sauce. The plating was lovely featuring thinly sliced medallions of duck breast fanned out to resemble feathers with colorful orange peel swirls scattered about. There was even a mini cheese soufflé included. When the dessert soufflé was presented the waiter quickly plunged a spoon into the top and poured warm chocolate syrup in the center. The highly theatrical delivery and performance at table side was quite unexpected and grand.
Le Meurice Hotel – Le Pièce de Résistance for Haute Cuisine
And now for the pièce de résistance… I will venture into what I would describe as the most defining moment in my dining career which took place at Le Meurice Hotel in the heart of Paris. We all know the term haute cuisine but do we truly know what it means, or more importantly, have we ever had the opportunity to experience it in the cradle of its origins? Haute cuisine means "high cuisine" and began in the 17th century by a famous chef named La Varenne who wrote a book in which he defines the standards for pastries and desserts. During the latter part of the 18th to 19th century a major chef named Marie-Antoine Carême entered the scene and he is credited with creating the mother sauces which made the foundation for his style of cooking. These sauces included espagnole, velouté and béchamel. It was during this period that the soufflé was born too. During the late 19th century and early 20th century haute cuisine as we know it today was codified and modernized by none other than the major chef of the time, George Auguste Escoffier. He created what is popularly known today as the brigade system where a professional kitchen is divided into five stations. These stations include garde manger (prepared cold dishes), the entremetier (prepared soups, vegetables & other dishes not involving meat & fish), the rôtisseur (prepared roasts, grilled and fried dishes), the saucier (prepared sauces) and the pâtissier (prepared pastry items).
George Auguste Escoffier's influence was so great that many Grand Hotels were opened around his style of cooking. Le Meurice Hotel is a product of this period dating back to 1835 and has long been considered the prized jewel among the French palace hotels. Located directly across from les Jardin des Tuileries, Le Meurice is a magical place with splendid architectural touches where one is treated like royalty. Famous guests include Queen Victoria, the King of Spain, Alphonse XIII, King George VI and the Grand Duchess of Russia. The most outrageous and loved guest among the hotel staff was Salvador Dali who stayed there one month every year. He's famous for his surreal requests like ordering flies from the Tuileries or asking that a horse be delivered to his room. He was even known to dangle fish off a fishing line from his hotel room balcony onto the passers by below.
Dining at Le Maurice Restaurant is otherworldly. The décor is regal with a painted mural ceiling, shimmering crystal chandeliers, antique gold gilt beveled mirrors and gigantic canvases hung on the walls which are all reminiscent of the magnificent Napoleon Salon in the Louvre. The Chef de Cuisine, Yannik Alléno, fashioned the most memorable meal of my life. He helped Le Meurice to capture 2 Michelin stars starting from zero in one year which is a first in the history of the Red Michelin Guide. At age 38, he was inducted into the elite circle of the world's greatest chefs when he received his third star for his gastronomic genius. He is also a 1st place recipient of the Auguste Escoffier International Prize, Nice 2008.
The culinary creations of Yannik Alléno are poetic magic. As the leader of a brigade of 74, this visionary chef has ambitions of reinventing haute cuisine and dreams of taking the hotel's restaurant to new heights in it's already world renown reputation. Judging from our lunch I can say he's near the summit. Our meal was breathtaking. It started with a selection of bread and a checker-board square of foie gras pate and butter that was very appealing. Then an amuse bouche of custard, green aspic and foam with a black wafer was served followed by another amuse bouche of filet of soul with a caramelized cream sauce. Both had ingenious presentations. There were two entrées as well. The first was an ensemble of chicken pate shaped like robin eggs atop of nest of puff pastry and when sliced open there were more chicken pieces inside with a rich cream sauce. The chicken had a wonderful farm fresh and mild gamey flavor that you don't get in the States. The second entrée was a plate of small kidney medallions with caramelized onions and slivered mushrooms in a reduction sauce. Both were visual masterpieces! Have you ever had a pre-dessert? Well we did and it was delightful. The first plate featured a chocolate pecan shell filled with chocolate ganache with a glazed pecan on top. There was a square pink marshmallow bon-bon with gold leaf on the sides, a chocolate macaroon and a variation on a profiterole gilded in gold leaf. The second dessert was a tiramisu-like jelly roll sponge cake encircled with a thin ring of sugar glass topped with espresso cream sauce. Oh, did I mention that there was a petite rum baba served in addition to the two desserts? And as if this wasn't enough, in came the traditional cheese plate. Make that a long gorgeous marble table with golden legs topped with an impressive array of French cheeses, dried fruits and grapes. A simply wonderful way to end an exceptional dining experience. Everything right down to the puff pastry is made fresh daily!
Dinner at Le Meruice will set you back financially. But if you desire an opulent, extraordinary and reasonably priced 8 course afternoon meal ($100 excluding wine) then lunch is the way to go. Look no further than Le Meurice Restaurant as you will experience haute cuisine at its finest! And in the famous European tradition you will be personally welcomed by Chef Yannik Alléno himself!
What a perfect ending to a marvelous culinary tour de force of both Florence and Paris.