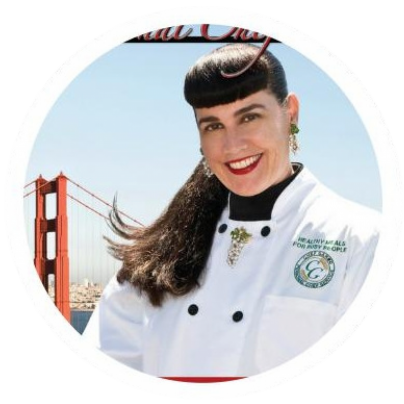 By Chef Garbo
January 4, 2011
Florence. Personal Chef Magazine – By Personal Chef Garbo
It's Chef Garbo here reporting on a recent "Food Tour" of Florence and Paris with my good friend Renee Coker. This was my first holiday in years without family on a "girls get-away" and I can highly recommend Renee as an excellent traveling companion. During the first two days we experienced a few bumps in the road with jet-lag and all but we got through it quickly and had the time of our lives!
Florence is a wonderful blur of bright winter days, old streets, busy markets, stunning art and fabulous food. Arguably, Florence is the home of the greatest regional cooking in all of Italy. Florence is steeped in rich regional cuisine and is the birthplace of much of our classic Western cooking. Florentines pride themselves on their local cuisine and will be the first to say that it was Catherine de Medici in the 16th century who taught the French how to cook. As the story goes, when she married the Duke of Orleans she took her Tuscan team of Chefs with her. The Duke of Orleans later became King Henry II of France.
True or not, Florence is a gold mine when it comes to hungry travelers seeking great local food especially if one dines off the beaten path. And like most visitors to Florence, we did a lot of walking but my friend Renee, a savvy world traveler, recommended that we enjoy our richest meals at mid-day and eat lightly at night. With that in mind, we sought out a wonderful array of lunchtime spots. If you can find a restaurant that looks jammed with locals I guarantee you will be richly rewarded.
As is the case with most of Italy, it's desirable to order dishes that are indigenous to the region as this ensures that you will be dining on the freshest ingredients available. Tuscan cuisine and Florentine in particular, has its roots in peasant traditions and continues that way today where the use of basic ingredients and simple cooking methods are the norm. The end result is wonderful.
Florence is famous for its Chianina beef (bistecca alla Fiorentina) which is considered the oldest breed of steer in the world dating back to the Etruscans. In the states this cut is more commonly known as the Porterhouse or the T-Bone but what makes the Florentine steak different is that it is cut from an area closer to the center of the steer so it includes the tenderloin section. One of my favorite meals in Florence was thinly sliced Chianina steak with shaved parmesan and toasted peppercorns served at the Cantinetta Antinori.  This family run establishment is located on the ground floor of the ancient Marquises Antinori family palace, designed by Giuliano da Maiano in 1461. The Antinori family is famous for their family owned wine empire and has been producing wine for 26 generations! The best part is that most ingredients in the restaurant come fresh from the Antinori farms near by.
The soups and minestre (hearty soups) that keep you warm in the winter are well worth trying while in Florence. They too have peasant origins. At Cantinetta Antinori I enjoyed a delicious, simple and hearty purée of which really hit the spot especially since I was about to walk once more along the River Arno in the deep of winter!
Other Florentine specialties to look out for are crostini (a smaller variety of bruschetta topped with pâté or diced tomatoes), and pappardelle with wild boar sauce. I enjoyed these two dishes at Ristorante La Giostra. The proprietor of this establishment is quite a character with a left arm that is loaded with silver bangles! His cuisine attracts a wide array of celebrities because it is well known in Florence that La Giostra, which means "carousel" in Italian, is owned and run by Prince Dimitri Kunz d'Asburgo Lorena and his twin sons, all of whom are Hapsburg princes and the cuisine is authentically Tuscan with Austrian influences.
If you have a sweet tooth, try to get your hands on a slice of biscotti or a Florentine cookie which can be found at many of Florence's pastry shops year round. I had the great pleasure of enjoying a cappuccino every morning at Café Gilli right across the street from the Savoy Hotel where we stayed. This elegant café has a pristine, turn-of-the-century interior complete with Murano glass chandeliers, frescoed ceilings, marble table tops and a sprawling terrace that over looks the Piazza Repubblica. Café Gilli has 250 years of history and continues today in the same tradition of pastry making methods that it has been using since 1733. Its fascination with locals and tourist alike make it an enduring destination café for both pastries and fine dining. I can tell you first hand that its coffee and pastries are excellent, which I greatly appreciated, especially on cold winter days. And of course there are gelato shops on every corner. Since I was traveling in January I passed on the gelato opportunity and chose to eat with my eyes and photographed all the beautiful window displays instead.
Now I'm dreaming of the next opportunity I'll have to eat my way through Florence. In the meantime, I guess my abundant array of food photos will have to suffice!
That's all I have to report for now. Stay tuned for Part II of this "Food Tour" series which will cover haute cuisine in the heart of Paris!