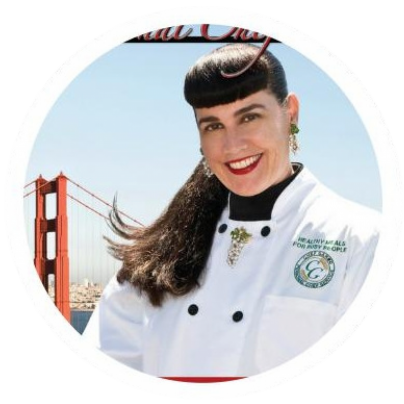 By Chef Garbo
October 1, 2017
Cooking with Coffee – Recipes and Health Benefits

It's Personal Chef Garbo here with my top 6 powerful reasons for cooking with coffee. Coffee not only adds depth to your food but it has many health benefits that can extend your life and make you happy too by boosting your mental clarity and general feeling of well being.
As a Personal Chef in San Francisco, cooking with coffee is pure pallet pleasing sorcery because it adds rich complex layers of flavors to meats, poultry and stews. My clients are very discriminating so I am constantly exploring new dishes to please them.
My mission is to provide the healthiest meal choices possible and cooking with coffee is not only resourceful but its health benefits are plentiful. The next time you pitch your left over coffee brew or grounds, think twice. Why not get creative and add some of it to your next dinner meal. Or simply make some coffee ice cubes stored in your freezer and pop 1 or 2 in that braised or marinated dish you've been meaning to cook?
Bottom Line: Read on to learn more about my top 6 powerful reasons for cooking with coffee and its health benefits.
#1 Coffee Grounds Make Fantastic Rubs & Marinades
Coffee grounds make great rubs and marinades for all kinds of proteins. Cooking with coffee might seem a little unconventional but there are many delicious and healthy ways to incorporate it into your meal plans. I have quite a few clients on the paleo diet and they love my baby back ribs with a spiced coffee dry rub because it adds that extra level of complexity that surprises when you're least expecting it.
Coffee ice cream and tiramisu has been around forever but adding coffee grounds to meats and poultry as a dry rub or marinade is quite another animal literally. Whether it be sweet or savory, cooking with coffee, especially dry rubs, adds that exotic level of flavor for those of us with jaded palates who are always searching for new thrills.
Bottom Line: Use coffee grounds for your meat rubs and marinades!
#2 Roast Chicken Recipe with Dark Roast Coffee Rub
Coffee rubs and roast chicken go hand in hand when it comes to roasting. Why not try a recent recipe I made from one of my favorite magazines by Donna Hay. My clients loved it!
ROAST CHICKEN WITH COFFEE SPICE RUB
Chicken & Green Beans
1 large whole chicken
2 tablespoons unsalted butter, softened
3 cups fresh or frozen green peas
3 large green chili, thinly sliced
1 red onion, thinly sliced
1 pound green beans, trimmed and blanched
1 teaspoon orange rind
8 ounces baby sorrel leaves
Coffee Spice Rub:
2 teaspoons instant coffee granules
2 teaspoons ground allspice
2 teaspoon ground oregano
2 teaspoon smoked paprika
1/2 teaspoon ground black pepper
2 teaspoons ground allspice1 teaspoon cayenne pepper
1 tablespoon sea salt flakes
2 teaspoon brown sugar
Orange Dressing:
4 tablespoons orange juice
1 teaspoon Dijon mustard
2 tablespoons apple cider vintages
1 tablespoon extra virgin olive oil
Sea salt and olive oil
DIRECTIONS:
Preheat oven to 425 degrees. To make the spice rub, place the coffee, allspice, oregano, paprika, black pepper, cayenne pepper, salt and sugar in a small bowl and mix to combine.
Place in the oven and cook for 20 minutes. Reduce heat to 350 and cook for a further 40 minutes or until cooked through and the skin is dark and golden.
While the chicken is cooking , make the orange dressing. Place the juice, mustard, vinegar,oil salt and pepper in a small bowl and whisk to combine. Set aside.
Place the peas , chili, onion, beans, orange rind and sorrel in a large bowl. Add the dressing and toss. Sprinkle salt and pepper.
#3 Increase Your Positivity with Coffee – Get Happy!
Several studies demonstrate that coffee makes you happy and can improve your health and well being. According to one study conducted by the University of Nebraska which found that regular coffee consumption not only increases visual acuity but delivers a general feeling of well being… Quote: "a significant increase in participants' ratings of how Lively Jittery, Peppy, Nervous and Active they felt as a function of caffeine consumption"
Another study conducted by the Harvard School of Public Health, discovered that coffee consumption can give you a more positive outlook on life and can lower depression rates. They found that this resulted from drinking at least 3-4 cups of coffee daily. The researchers pointed out that caffeinated foods and drinks tap into the reward centers in our brains, like that morning cup of java that most everyone on the planet craves. So drink up and cheers to your health!
Bottom Line: Come on, come on get happy, chase all your cares away… With coffee!
#4 Prevent Certain Diseases & Extend Your Life with Coffee
Coffee is high in Antioxidants and can prevent diseases like diabetes and some types of cancer. In fact, many studies show that people who consume 3 to 4 cups of coffee a day can significantly reduce their risk of diseases including type 2 diabetes.
Colon cancer and Liver cancer. A single cup of coffee contains potent amounts of Vitamin B2, B5, B3, Manganese and Potassium. Lots of vitamin B gives us energy and boosts brain function and who doesn't love that?
Bottom Line: The healthy antioxidants in coffee can help prevent disease and extend your life!
#5 Loose Weight with Coffee
In addition to preventing disease, coffee also helps your body to burn excess fat which helps with weight loss. Yup, caffeine is found in almost every commercial supplement out there because it's a stimulant that increases our metabolism which burns fat more rapidly. This research illustrates weight loss by consuming Mannooligosaccharides (MOS) which is extracted from coffee.
Bottom Line: Add coffee to your weight loss plan.
#6 Coffee Helps Boost Cognitive Function Under Stress
A Navy Seal study showed that when individuals are under high pressure, extreme stress and put into impossibly adverse situations, even small amounts of caffeine can boost performance and brain function. Furthermore, the study included mental capacity as very important when it comes to vigilance, learning, memory and general mood. While brain performance is critical, the powers of caffeine can deliver a powerful punch when needed. The study said that a 200 mg serving size is best in such circumstances.
Bottom Line: Coffee boosts cognitive function even in small amounts.
Conclusion
Cooking with coffee has many health benefits. By utilizing my 6 powerful reasons for cooking with coffee you can add excitement to your dinner meals. And you can improve the quality of your life. In conclusion, think twice before you chuck your used coffee grounds and try preparing the above Coffee Rubbed Roast Chicken recipe that will definitely make you happy!
Contact me now and let me know if this post was helpful.