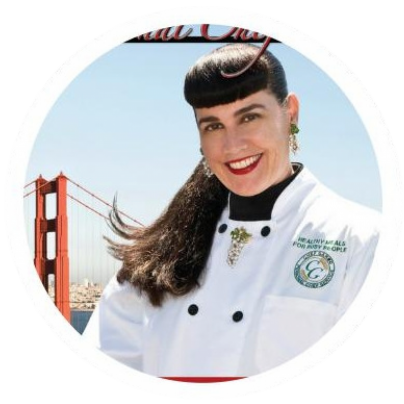 By Chef Garbo
April 18, 2018
Spring Recipes and More!


Asparagus signals spring!
And it's a powerful source of vitamins and minerals which can boost your health.
Furthermore, for those of us who like to eat with the seasons, now is the time to get creative with this powerhouse veggie.
This post will explore all things Asparagus including its:
1) Health benefits,
2) Origins and
3) Culinary wonders.
Let's get to it!
#1  Health Benefits of Asparagus
This vibrant green vegetable is at its peak in the spring. It's full of good-for-you vitamins and minerals like A, C, E, K, B6 and B12, plus folate, iron, copper, calcium, protein, and fiber.
Bottom Line: Asparagus packs a serious punch in terms of nutrient dense health benefits.
#2  It's Loaded with Vitamins & Minerals

In addition to being loaded with vitamins and minerals, asparagus is brimming with anti-inflammatory and antioxidant nutrients that can help to reduce common chronic health problems including:
* Type 2 diabetes
* Heart disease
* Cancer
Bottom Line: Prevent disease with the anti-inflammatory properties of Asparagus!
#3  A Proven Cancer Fighter
What I found surprising about this amazing nutritious vegetable is that it is rich in glutathione, a detoxifying compound that can help destroy carcinogens. Many researchers think that glutathione levels in our cells is literally so vital that it is becoming a predictor of the longevity of our lives.
One key aspect about glutathione is that it plays a critical role in healthy immune function. In essence, this healthy spring vegetable can help fight against certain cancers including bone, breast and lung cancer.
It is well known that chronic inflammation and stress are risk factors for many cancer types. Thus, by consuming Asparagus, it can become your anti-cancer friend because it's loaded with anti-inflammatory and antioxidant nutrients.
Bottom line: Asparagus is a great anti-cancer food because it packed with glutathione, a critical immune booster. See my article on Turmeric which is also a powerful anti-cancer food!
#4  Powerful Brain Booster
Another anti-aging property of this mighty green spear is that it may help our brains fight cognitive decline.  Why? Because it's rich in folate, which is found in leafy greens, and vitamin B12, which is found in fish, poultry, meat and dairy.
Tufts University conducted a study on seniors and the impact of vitamin B12 and folate. The test looked at mental speed and flexibility. Guess what they found? Those that performed the best all had healthy levels of folate and B12.
Bottom Line: Asparagus can boost brain power because it's loaded with vitamin B12 and folate.
#5  Nourishing for Your Digestive Tract

This amazing veggie contains a prebiotic called inulin (a soluble fiber found in plants) that improves gut health but does not break down in your digestive tract. Rather, it gets passed undigested to the large intestines, where it's turned into a food source for good bacteria. Healthy bacteria helps with better nutrient absorption, lowers your risk of allergies, and can lower your risk of colon cancer.
Bottom line: Load your digestive tract with Asparagus for healthy bacteria and better nutrient absorption. Your taste buds will love it too!
Origins of Asparagus
Did you know that the cultivation of this nutrient dense veggie goes back to the Greeks and Romans? I didn't. Given that I'm a research hound, I looked into the origins of this ancient vegetable and found that it was first cultivated about 2,500 years ago in Greece. In fact the word Asparagus comes from the Greeks which means stalk or shoot. The Greeks believed it to have both sacred and aphrodisiac powers and it is known that Hippocrates used it for medicinal purposes.
The Romans loved this ancient green shoot too. They even had written instructions on how to grow it and recipes on how to prepare it. The Romans prized Asparagus so much that they devised a way to preserve it by freezing it as early as the 1st Century AD. The method used to freeze Asparagus was a speedy chariot which would transport it from the Tiber River to the Alps. This enabled the Romans to keep it frozen for six months until the Feast of Epicurus arrived. The Roman Emperor Caesar Augustus coined the phrase 'velocius quam asparagi conquantur', which means… "faster than you can cook asparagus". I love it!
Bottom line: When in spring, do as the Romans do. Eat copious amounts of Asparagus!
Asparagus and Barley Salad
The Romans were right to love Asparagus. It's so elegant and easy to prepare. It photographs beautifully too! And did I mention that it's delicious and nutritious? Well it is and I have several recipes to prove it.
The above Bulgur salad has a tasty Italian twist to it. I jazzed it up a bit with roasted tomatoes and a dollop of ricotta on the side to make it a full meal. Get recipe here.
Creamy Asparagus Soup
Pureed Asparagus soup is soothing to the soul and packed with nutrition. It also makes an elegant starter for a dinner party which can be made a day ahead. Get recipe here.
Asparagus Frittata
Like an omelet, a frittata makes for a great breakfast or dinner meal. It's easy and filling too. If you haven't made a frittata before, now is your chance. Get recipe here.
Bulgur, Asparagus and Sun Dried Tomato Salad
Asparagus and Bulgur go well together and makes for a satisfying meal any day of the week. This is a fabulous summer salad since it's easy to put together and deliciously light and herby. Get recipe here.
Salmon En Croute
This recipe looks like it might take a lot of effort but it's easier than you think. It makes for an elegant dinner party meal and it freezes nicely too. So do as the Romans did, double the recipe and save it for later in your freezer! Get recipe here.
Fried Eggs with Asparagus
If you want to start your day off right this spring, here is the recipe. A protein packed meal of fried eggs and sautéed asparagus will give you that energy boost you'll need for the day. Get recipe here.
Asparagus Salad with Chicken and Pine Nuts
This is a nice and light salad. As usual, I didn't follow the recipe. I took it to another level by adding some shredded chicken. Get recipe here.
Thomas Jefferson Asparagus
Here's a dish with a little history behind it. It's classically French but one of our Founding Fathers, Thomas Jefferson, loved it too. In fact, he grew quite a bit of Asparagus in his back yard at Monticello. It's a favorite among my clients as well. Get recipe here.
Asparagus Cobb Salad

When I see Cobb salad on a menu I order it because it's loaded with bacon, eggs tomatoes and the works. What's great about this dish is that it incorporates Asparagus which I gobble up this time of year.  Get recipe here.
Conclusion:
Asparagus is the ultimate spring treat! Its health benefits are numerous and it can even help prevent disease. So if you haven't figured it out yet, it's time to get some Asparagus on your plate this spring. It's bountiful right now, it's gorgeous, it's easy to prepare, it's loaded with vitamins and minerals and it just might help prolong your life.
So let's do this!