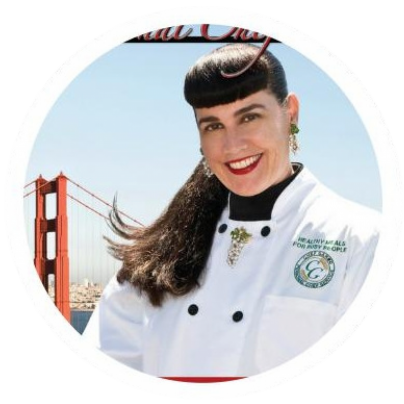 By Chef Garbo
January 12, 2018
Turmeric: 7 Healthy Recipes (Eat it in 2018!)

In this post you'll learn about the magnificent health benefits of turmeric.
Plus, you'll find 7 delicious recipes and 1 video on using turmeric.
Crush life by eating your way towards optimum health in 2018!
Origins of Turmeric as an Anti-Inflamatory
Turmeric, also known as Curcuma longa, is nature's most astonishing superfood on the planet. It is the main ingredient in curry powder used by Ayurvedic healers for centuries. And it has powerful healing benefits as well.
Ayurvedic and Chinese medical practices have used this wonder spice for centuries due to its  anti-inflammatory properties. Today this ancient Indian system of natural healing is still widely practiced. Literally, Ayurveda means "science of life" ( ayur meaning "life" and veda meaning "science or knowledge.")
Did you know that turmeric is the superstar in Indian cuisine? It's literally the spice of life that gives curry its classic golden color. Many of the organic mustards, butters and cheeses we buy use turmeric to enhance its color too.
Powerful Health Benefits of Turmeric
There's tons of research that proves the curative power of this miracle spice. Even the medical industry agrees that turmeric can often be more effective at treating disease than traditional medicines. This is due to its remarkable anti-oxidant properties.
Click on the disease category below to see compelling research on this powerhouse spice!
Heart Disease
Cancer
Arthritis
Ulcerative Colitis
Bacterial/Viral infections
Alzheimer's
Depression
High Blood Pressure
Diabetes
Turmeric Can Prevent and Treat Cancer
We all know that the Western diet is high in sugar and fat. Too much sugar causes inflammation which leads to disease. Of the many chronic diseases we battle, cancer is the most devastating. The good news is that turmeric has been proven to play an important role in the treatment and prevention of cancer.
Cancer is characterized by uncontrolled growth of cells. Quite a few studies have proven that curcumin can minimize the proliferation of cancer cells and slow tumor growth in lab animals. More importantly, there is growing evidence that turmeric can prevent cancer cells from occurring in the first place through a process called apoptosis (programmed cell death).
Recent Article Proves Turmeric Kills Cancer Cells
Recently, a  woman in the UK beat blood cancer. I read about this amazing story in an article published by "Natural Blaze". Apparently, all the traditional drugs and chemo therapies failed so she dumped her meds and consumed massive quantities of turmeric. And voila, her cancer disappeared. Read full story here.
Eating Turmeric Alone is not Enough
Although there are numerous health studies proving the efficacy of turmeric, eating it on is own is not enough. You'd need to consume massive quantities to reap its benefits.
Consequently, the medical community found curcumin "extracts" the better method as it is highly potent and delivers the full medicinal effects.
Unfortunately, curcumin by itself is not well absorbed into the bloodstream. So Doctors and Cooks alike have found that mixing black pepper and healthy fat like coconut oil enhances the absorption power by 2000%. That's easy enough!
7 Easy Recipes Using Turmeric
As a Personal Chef in San Francisco, I prepare quite a few dishes using turmeric. In fact, I have many clients that are either fighting cancer or are cancer survivors. Either way, this spice is wonderfully aromatic that you can use every day for better health.
And to help get you on the road to optimal health, I have listed some tired and true recipes that I think you might enjoy.
#1 Coconut Curry Chicken
Coconut curry chicken comes from the Indian subcontinent. Typically, this stew is made with chicken pieces, onion, tomato and flavored with ginger, garlic, mango chutney, cardamom, cayenne, cumin, coriander and of course turmeric. Coconut Curry Chicken is fast and easy. It's one of the most requested meals from my client base. Get recipe here.
#2 Fragrant Beef Curry
This recipe is an all time favorite among my clients. It's rich, aromatic and totally easy! I found it on Epicurious years ago and here's what intrigued me about the recipe… "An Indian friend of my mother's gave her this recipe for beef curry back in 1936," writes Bill Goodhue of Chino, California. "The recipe has been passed on to me, so I can still enjoy the sweet-spicy flavors of this stew more than 60 years later." Get recipe here.
#3 Chicken Tagine
I love Moroccan food but I don't have a Tagine. A Dutch oven works just fine for this dish. In case you're curious, a Tagine is a two-piece conical shaped clay pot used to make various meat dishes. The fluted cone top allows for it to trap steam and distribute the heat evenly.   So delicious! Get recipe here.
#4 Scrambled Eggs with Turmeric and Kale
If you're looking for a hearty breakfast this super easy egg and kale scramble is the way to go. Get recipe here.
#5 Roasted Cauliflower
Cauliflower is one of my favorite vegetables for roasting because it caramelizes well at higher oven temperatures.
For a super tasty dish just mix some cauliflower florets in a bowl with olive oil, salt, pepper and a teaspoon or more of turmeric. Roast at 400 degrees for about 35 minutes. So delicious! Get recipe here.
#6 Ginger Carrot Soup
Another client favorite. This soup is warm and comforting during the cold winter months. Get recipe here.
#7 Squash Soup
Here's one of my all time favorite soups that soothes the soul and belly! I jazzed it up with a little goat cheese and bacon that's not in the linked recipe. As usual, I made the recipe easier by skipping the slow cooker process. Who has time to roast a butternut squash?  I simply diced the squash, sautéed it with the onions and threw everything else in the pot to cook for about 30 minutes until tender. Get recipe here.
Turmeric Products I Like



Not all turmeric is alike so it's best to do a little research. Amazon is a great source to evaluate various products and I find the reviews very helpful when it comes to narrowing things down in the decision process.  My Naturopathic Doctor is also a great resource. All of her recommendations on supplements have been spot on!
Below are 2 such products that have worked extremely well for me:
Starwest Botanicals Organic Turmeric Root Powder (for cooking)
AR-ENCAP Capsules by Thorne Research (for joint pain)
And of course, raw organic turmeric root is always available at Whole Foods.
Conclusion
Now that you know a few healing facts about turmeric why not cook up some comfort food right now? Your body will love it and so will you.
Bon Appetite!