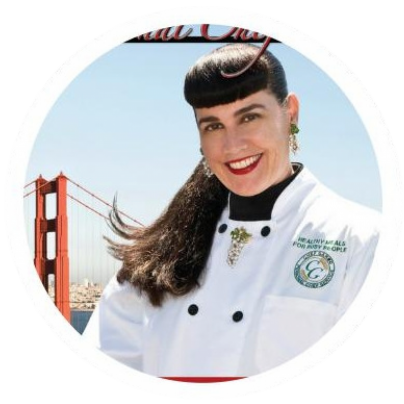 By Chef Garbo
May 4, 2007

Two Chef's Excellent Adventure at SF Fancy Food Show- Personal Chef Magazine:  May/June 2007  —  By Personal Chef Garbo
San Francisco Bay Area
Personal Chef Garbo, based in the San Francisco Bay Area and Kara Lee Falcon devoted an entire weekend in January to the 32nd Winter Fancy Food Show at San Francisco's Moscone Center to keep themselves abreast of the current gourmet food trends. There were over 1,000 exhibiting companies from 35 countries and 80,000 specialty food products represented. Their strategy was to get new ideas and product trends to further expand their recipe repertoire and gift offerings to their client base.  Most exhibitors are entrepreneurs who created their recipes themselves and started their own companies. The Fancy Food Show gives attendees the chance to learn about each product first-hand and do business directly with the decision makers onsite. Since 1955, the National Association for the Specialty Food Trade (NASFT) has held the Fancy Food Show annually at different cities around the world.  They are well-funded, aggressively marketed, and highly regarded by attendees and exhibitors alike. Hundreds of specialty food retailers showcased their products including such items as seasonings, confections, gourmet chocolate, sweet and savory pastries, cured meats, oils, vinegars and much more!  The 9th Spring Fancy Food Show will be held in Chicago on May 6-8 2007.
TIPS FOR NAVIGATING THE SHOW
From the time Chef Garbo and Kara walked into the Fancy Food Show, they were both in heaven as they were intoxicated by the fabulous aromas lofting through the air and surrounded by all the hustle and bustle of the 1000's of vendors in attendance.  This show is indeed a foodie's paradise!  Once the two Chefs started eating their way through the crowd they realized there was a lot of ground to cover.  Here are some tips to follow before the show:  1) Do your research before you attend by visiting the Fancy Food Show web site and reviewing the Exhibitors List.  2) Map out your plan of attack as there are hundreds of vendors to see. 3) Consider the products you use most and make a point to visit those vendors.  4) Make sure you inquire about wholesale price breaks because most of the exhibitors offer them to Chefs in the food service industry. For example, Chef Kara realized that she uses costly olive oils, flavored vinegars, mustards, jams, coffee and teas. She found that many vendors extended her the wholesale price. 5) Look for products that can cut your prep time in half, like mixes jams and puff pastries and other vessels for Hors D'oeuvres, cheeses, chocolate sauces and dessert topping for that little something special, maybe for a client gift. 6) Be sure to ask about shipping as some items must be shipped overnight. 7) Taste everything and enjoy!
EDUCATIONAL SEMINARS
The Chefs also attended a seminar entitled "Taking Your Products to The Marketplace" which focused on the logistics of sales and marketing efforts for a new business start up. The guest panelist included Terry Brown from Wing-Time, John McIntosh, of Wine Country Kitchens, Janis Dalessandro of d'Oni Enterprises and Nicho Ashley, of Oakville Grocery in Napa, CA.   Initially, one might think, what does the Retail/Wholesale Food industry and the Personal Chef Industry share in common?  The answer is marketing strategies.  The same marketing principals hold universally true across all industries with regard to landing and keeping valued customers.  The big take-away for Chefs Garbo and Kara was this…"Support Your Customers"  and the value of "Food Demos" to showcase and sell your food service.  The bottom line for success according to speaker Janis Dalessandro was keeping your customers happy.  She stressed that if a certain product line or food item is important to your customer… it's important to you if you want to stay in business!
TOP FOOD TRENDS SHOWCASED AT THE FANCY FOOD SHOW
The top food trends and specialty items that might pop up in your favorite grocery store in the months to come include:
Teas, especially green tea. Flower blooming tea, organic tea, chai tea and tea infused chocolate
Super fruits with antioxidants, especially pomegranate, believed to enhance the immune system.
Infused Alcohols and Mixers (lemon myrtle vodka and not so sweet apple mixers)
Artisanal cheeses, especially goat cheese from all over the globe. The trend is to GO LOCAL!
Specialty salts and fleur de sel
Organic and Gluten Free products based upon consumer demand
Organic Soup, Noodle and Rice Mixes with "earth friendly" packaging
"Natural" and "Organic" beverages
The 2007 game plan for Chefs Kara and Garbo is to experiment with new flavor combinations, new products and new ingredients found at the Fancy Food Show and give their customers the latest and greatest in flavor trends.  According to Ron Tanner, Vice President of NASFT, beverages are in the forefront of innovation. Chefs Garbo and Kara noticed that the tradeshow floor was flooded with exotic fruit juices and water products.  One notable San Francisco based company named Hint, showcased their flavored water (fruit, cucumber and peppermint) with no sweeteners.  "Organic" and "Natural" will be the buzzwords of the year on the fruit juice and water front!
ds continue to be on the forefront too. One of Chef Garbo's favorite Asian brands for natural broths and sauces is Bay Area based Annie Chun's Pictured left is Chef Garbo and Entrepreneur Annie Chun exchanging recipe ideas that will include Annie's broth and noodle products.
Also pictured is Chef Kara savoring her favorite Tuna brand product, Tonnino,
Tonnino Tuna. According to Chef Kara, tuna packed in oil is getting harder to find these days. Chef Kara prefers oil infused tuna for its moistness and ability to absorb flavors better in her dishes.
The Fancy Food Show was indeed an excellent adventure for Chefs Garbo and Kara. As they tasted their way across the tradeshow floor, they discovered that there is a huge and delicious world of specialty food out there that they can bring to their client's tables!
All images copyright protected ©Claude Garbarino
Ethnic specialty foo