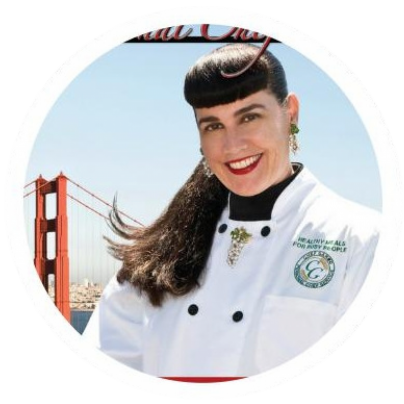 By Chef Garbo
September 4, 2009
Demos, Wolf Ranges and Chefs…Oh My!
Feature Story in Personal Chef Magazine
When my friend and fellow USPCA member Chef Elizabeth Bourget of "Gourmet to Go" asked me to do a Wolf demo I jumped at the opportunity. Elizabeth has been Wolf's go-to person for 4 years now so I was grateful when she considered me for the job.  I've never done a cooking demo in my life!  But I said, "Yes… I can do that!"  Then she said "Oh, by the way, Celebrity Chef Cindy Pawlcyn will be there signing her new appetizer cookbook".  GULP!  What have I agreed to? Then I thought, well, many of my clients have Wolf Ranges and I'm a huge fan of Cindy Pawlcyn.  To quote Pawlcyn's Bio on Bravo TV "She is widely recognized as a pioneer of wine country cooking and one of the first proponents of the farm to table philosophy.  She has worked alongside the likes of James Beard and Julia Child and is the author of four widely acclaimed cookbooks – The Fog City Diner Cookbook, Mustards Grill Napa Valley Cookbook, Big Small Plates, and her newest, Cindy Pawlcyn's Appetizers. Cindy is considered as one of the most influential and accomplished women chefs in America and she's an inductee of the Who's Who of American Cooking".
I wondered how I was going to execute this "demo thing" anyway? I essentially signed up to prepare Cindy Pawlcyn's recipes where she might sample her own creations. YIKES… The pressure was on and I had to perform. Surely the food styling skills I learned from the renowned Denise Vivaldo Food Fanatics class that I took with Gail Kenagy (now our President) would help me out. Plus, I'm competent at food photography. In order to simplify things and to showcase my talents as a Personal Chef, Elizabeth and I decided on the following menu plan:
Wolf Range Presents – Spring Fling Menu
Hard-Boiled Eggs with Best Ever Tapenade
Lamb Meatballs with Yogurt-Mint Sauce
Garbo's Apple Galettes
Strawberries Dipped in Dark Chocolate & Nuts
The weekend before the actual demo, I tested, styled and photographed Pawlcyn's "Hard-Boiled Eggs with The Best Ever Tapenade" and "Lamb Meatballs with Yogurt-Mint Sauce". Everything turned out better than expected and I was feeling very confident. I suffer from stage fright so it was very important for me to pre-visualize and test everything in advance. This included going to the Wolf facility to see how the stoves, ovens and counter tops were laid-out. I made placards using the food photos I had just taken and planned to use them in the food sample area. These help immensely so the consumer can see what they're eating as a whole as the samples are sliced up into small pieces. Since people "eat with their eyes" the appetizer visuals only enhance the consumer experience both esthetically and emotionally.
Demonstrating Wolf Ranges
I reminded myself that "demos" are like a cooking class and attendees are there to learn something new either about Cindy Pawlcyn, Wolf Ranges or me, the Personal Chef, who brings it all together. Using my sales background, I gingerly demonstrated how the Wolf built-in Convection oven bakes pastry and garlic together without transferring the flavors. This was a hit with the customers. Then Pawlcyn's Lamb Meatballs were pan-fried, garnished and served. These too were a huge hit. Even Cindy thought they were great!  I breathed a sigh of relief and she and I exchanged stories about her secret ingredient "Piment d'Espelette" (chili peppers from the Basque country) and where it could be purchased in Napa. She even invited me up to her new restaurant "Go Fish" in St. Helena where she will personally give me a tour… Can't wait!
The best part about doing a Wolf Demo is that I'm at liberty to talk up my Personal Chef business while I'm demonstrating the Wolf product line. The most frequently asked question was what features I liked best as a Chef cooking on Wolf Ranges. This was a perfect segue into my Personal Chef business and my experience on Wolf Appliances. The demo event was a win/win situation that produced excitement among the Wolf customers and my Personal Chef business. Most importantly, I received two very hot leads interested in my service!
And this, all in a day's work… not a bad way to earn some extra cash and toot my own horn!