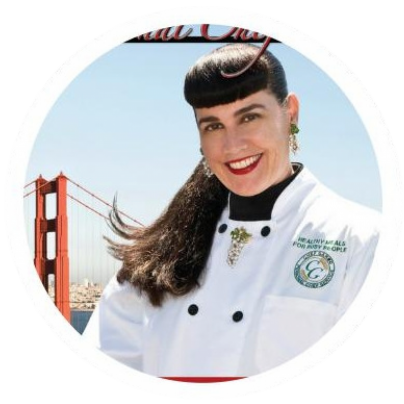 By Chef Garbo
April 4, 2009
Chef Paul Prudhomme at Fancy Food Show
San Francisco Bay Area
A few members of the USPCA Local Bay Area Personal Chef Chapter attended the 34th Annual Winter Fancy Food Show at the Moscone Center in San Francisco to see what's happening in the food world.  For any self respecting Foodie living in the San Francisco Bay Area, particularly those that work in the food industry, it is a must to attend the Fancy Food Show to see "What's New" & "What's Hot".  And that we did!
With 50+ years of history, the NASFT Fancy Food Shows are North America's premier showcase for specialty foods and are only open to people in the industry (such as producers, retailers and chefs). The show had 1,500 exhibitors representing 50 countries, featuring 80,000 of the world's finest foods, including natural and organic products, cheese, olive oil, spices, tea, chocolate and ethnic specialties.
We HAVE SEEN THE FUTURE…and it's full of chocolate, flavored water, lots of tea and a whole slew of gluten-free products coming to the market. In these tough financial times both economist and trend-spotters are saying that budget oriented Americans will continue to indulge on fun things to eat, even while they scratch plans for ski holidays, new automobiles and the like. You can be sure the food purveyors we saw will be competing for your precious dollar in 2009.  And if the Winter Fancy Food Show is any indication of how we'll be eating in the coming year, we'll be consuming plenty of organic products made with super antioxidant ingredients!
At the last SF Winter Fancy Food Show we made the mistake of eating lunch beforehand. This year we came hungry as there is an overwhelming cacophony of flavors, smells and colors to digest. Instead of Breakfast at Tiffany's, we had breakfast in Tuscany! Yes, the international presence was formidable with their own community in the South Hall.  For starters we had Formaggio and Charcouterie in the Italian and French quarters. Leave it to the Italians to feature a huge flat screen TV with heated football games and screaming excited fans blaring on the airwaves. This in combination with the wine and cheese tastings made the Italian section a "destination" spot!
Without further ado, here are some of the Top Picks written by several chefs within our USPCA Bay Area Local Chapter highlighting what we think will indicate potential trends in the future…
CHEF GARBO'S BEST PICKS:
La Dolce Vita "The Sweet Life": This booth had plenty of classic biscotti cookies but what really caught my attention was their new product, not quite ready for prime time called, "Biscotti Munch". It consisted of small bits of biscotti and almonds that were coated with white chocolate and trace amounts of dark chocolate thinly drizzled over the cookie crumble confection. It made me think of all the twice baked Biscotti disasters I created when I first experimented with my Italian friend's family recipe. Before my eyes I beheld the solution; a delicious concoction that made a crumbled up mess of broken cookies look gorgeous. If ever again I fowl up a Biscotti recipe, this is how I plan to redeem it for a delectable taste treat!  Check it out La Dolce Vita Biscotti
Pierucci Cheese Dairy, Corse, France: I had the distinct pleasure of tasting a Provencal herb encrusted goat cheese that was so creamy, subtle and velvety smooth that it melted in my mouth.  The Provencal herb crust was breathtaking!  Unfortunately, the folks at the booth only spoke French so in my broken French style I managed to communicate that I needed to get to their website to learn more about the history and order their product.  If you can read French check it out!  Fromage-Pierucci
Asian Food Etc.: The Chapter members met up with Barb Lance, a fellow USPCA Personal Chef located in Loveland, CO.  Barb and her daughter were working at the Asian Meals booth and demonstrating their product repertoire. ASIA etc. is a marketing company specializing in sourcing producers and manufacturers of food products in Asia and introducing them in the U.S. marketplace. Their clients include Costco, Eatzi's, Food Emporium, Kroger, Marriott, Safeway, Trader Joe's, Walt Disney World, Whole Foods Markets, and many others.  Check it out Aasia-Etc.

Chef Paul Prudhomme:
Whilst wandering from booth to booth, Chef Kara Lee Falcon and I stumbled upon the famed Chef Paul Prudhomme signing his cook books fast and furiously. Naturally, I saw a photo "opp" for this article and seized the moment.  How appropriate and timely that we converged on this booth as our National Conference will be in his home state of Louisiana! More importantly, we discussed the possibility of having tours at his "Magic Seasoning Blends" facility as a field trip offering to the attendees at the USPCA National Conference in New Orleans. Chef Paul Prudhomme.
Ayala's Herbal Water: Imagine tasting an herb garden in a bottle! This company infuses organically grown herbs into purified water.  What a refreshing delight. The flavor "flight" I tasted was in this order; Lemongrass Mint Vanilla, Ginger Lemon Peel, Lavender Mint Lemongrass Thyme, Cinnamon Orange Peel, Cloves Cardamom Cinnamon and Jasmine Vanilla.  I prepare many ethnic dishes for my clients that range from North African to Thai and I think this water will make the perfect paring!  Check it out: Ayala's Herbal Water .
T'best Aloe Vera Juice: Aloe drinks were every where this year but most notable to my palate was Korean brand name T'best.  Theirs featured lots of aloe pulp in the beverage. The flavors sampled were aloe, guava and mango. This aloe-infused juice contains vitamins, minerals and amino acids, and has no sweeteners. Just pure organic naturally sweet aloe juice which was delightful and refreshing. Check our their website at Alibaba.com.
Tea forté:
One can't be sure if Tea forté is a play on words for "tea for two" but if you drink enough of their new Cocktail Infusions with Vodka you will be seeing things in two or feeling "two sheets to the wind" in short order!  By far my best pick of the show!  Their booth was a visual stand out in the crowd as it was colorful and beautifully designed as are their product offerings. The"Tea forté Cocktail Infusion" was launched at this show and the tea infused alcohol tasting were very popular with the crowds. I consider myself fairly accomplished in the mixology realm and this is one product I will certainly add to my repertoire! The flavors include; Lavender Citrus, Lemongrass Mint, and Silkroad Chai. Imagine infusing the lavender citrus into Martinis, Cosmopolitans or your own inspired creations. Yum! Check it out: Tea Forte.  That's it from Chef Garbo here.  Read on to see what my fellow Chefs had to say about the show!
CHEF SUZETTE'S BEST PICKS:
While the entire show was pure culinary heaven, the booth that stood out for me was the Tea forté booth.  I happen to be a huge fan and consumer of Tea forté tea bags. These tea bags not only produce quality tea in a variety of flavors, but they also look fantastic on a beverage table display.  I was ecstatic to learn that Tea forté unveiled their new Cocktail Infuser "bags" at the show.  They are silken, pyramid shaped bags that look identical to their tea counterparts.  However, these special blends of natural teas, fresh herbs and spices infuse directly into alcohol. The cocktail infusers come in Lavender Citrus, Lemongrass Mint, and Silkroad Chai.  Many variations of exotic cocktails can be made from these three infusers, but I was able to sample the Lavender Pear Martini, Chai White Russian and the Wild Mint Mojito.  As a Personal Chef, I love to provide small and unique dinner parties with a "wow" factor. These infusers are a great product to bring to my clients and they can be found online at Tea Forte. Like Chef Dawn, I was also impressed with the Albert Uster Imports as their products are also a beautiful and unique way to present food in a party atmosphere.  The highlight of my day was meeting Chef Paul Prudhomme and managing to get a photo with him and fellow Personal Chefs Dawn and Gini.  He was very welcoming and happy to hear we will be joining him in New Orleans during our USPCA conference this year.
CHEF GINI'S BEST PICKS
Before I became a Personal Chef, my family used to dread being with me when I went in a fabric store because I could spend hours in one!  Now, it's kitchen and specialty food stores.  For me, the Fancy Food Show could easily be renamed "Chefs in Wonderland"!  Being an avowed "chocoholic", my favorite booths were the ones with chocolate samples…and there were many!  One of my favorites was "Figamajigs"  a healthy and delicious way to enjoy chocolate".  I have a huge mission fig tree in my backyard, and every year I get so frustrated when the squirrels take one bite out of the figs and then throw them on the ground!  So, to enjoy a chocolate covered fig bar was pure enjoyment!
CHEF KARA'S BEST PICKS:
The Cubelite portable studio system was very impressive to both me and Chef Garbo.  As a Personal Chef I create many beautiful appetizers for my catering business. The challenge is taking a good photo of my food that really captures the beauty and presentation of my craft so they can be used in my website and marketing brochures.  I've learned that taking a good professional looking photograph is not just a case of point and shoot. Controlling the light is critical and there's nothing worse than the telltale "flash" of a digital camera that makes food arrangements look so flat and unappealing. The Cubelite is an ingenious solution to this problem as it delivers well balanced and soft lighting that will bring my food shots to life whereas bad lighting will destroy them. The Cubelite is made of very lightweight fabric that is coiled up in a small carrying case and springs into a square shaped white cube box when opened. It comes with tripods, 2 lights, seamless white background paper and 2 reflector pads. The best part is its portability and ease of use.  All you need is a small table and you're ready to go!  For more detailed information check their website at Cubelite. Also of note was Mr. Bacon Salt who was roaming the tradeshow floor touting up the wonders of their bacon flavored products. J&D's, produces smoked bacon salt and Baconnaise, and whose slogan is, "Everything should taste like bacon," handed out samples of bacon-flavored lip gloss.
See their website BaconSalt.  for details.