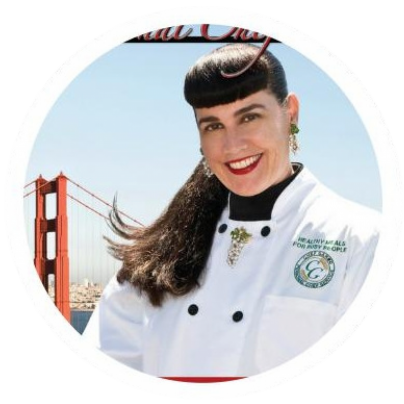 By Chef Garbo
December 4, 2010
Personal Chef Magazine October – December 2010 Issue
Personal Chef Magazine Article
Garbo's Orange & Rosemary Scented Butternut Squash Soup with Seared Scallops
With the Holiday Season upon us one traditional dish that comes to mind is butternut squash soup. Every year I change up the recipe with creative twists on a traditional theme.
Butternut squash is an impressive vegetable with a formidable history, and it's a nutritional powerhouse that can be served up most elegantly. Unique to the Americas, butternut squash has an ancient history dating back to 3000 BC. It has been documented that American Indians frequently prepared squash as they believed its seeds increased fertility. They named this hardy and bountiful vegetable "the apple of God" and it was commonly planted close to their homes.
In addition to boosting fertility, butternut squash delivers a huge payload when it comes to nutrition for it is rich in beta-carotene, magnesium, manganese potassium, calcium and is a wonderful source for vitamins A and C.
Did you know that next to Florida, California is the second largest producer of butternut squash?
Being a native Californian it's only natural that butternut squash plays a key role at my dinner table during the Holiday Season. To make it Garbolicious I give the soup a little San Francisco flair with the addition of sautéed sea scallops and a mélange of local flavors. In the below recipe the essence of rosemary, bay leaves, shallots and orange juice shine through as the secret ingredients that will fill your home with marvelous aromas. Celebrating the Holidays, at least in the Golden State, never looked or tasted so good!
Recipe for Orange & Rosemary Scented Butternut Squash Soup with Sea Scallops
FOR THE SOUP:
Seared Scallops with Butternut Squash Soup Soup
2 pounds butternut squash (peeled, seeded and cut in small cubes)
½ pound whole butter
3 shallots
3 sprigs rosemary
Peel of one orange
1 cup orange juice
3 ounces white wine
3 tablespoons dark brown sugar
4 cups chicken or vegetable stock
3 bay leaves
Salt and white pepper to taste
Sweat peeled squash in butter for about 5 minutes. Add shallots, rosemary and orange peel. Simmer over low heat for another 5-10 minutes. Add juice, wine and sugar and reduce by half. Add stock, bay leaves, and salt and pepper. Bring to boil then simmer until tender. Puree in blender until velvety smooth. Best made a day in advance.
FOR THE SCALLOPS:
12 large bay scallops
Coarse ground salt and pepper to taste
1 tablespoon olive oil
1 tablespoon butter
1 teaspoon chopped chives (optional for garnish)
Daikon sprouts (optional for garnish)
Combine first 3 ingredients in bowl. Melt butter in cast iron skillet. Add sea scallops and sauté 2-3 minutes per side until golden brown.
Ladle about 1 cup of soup in a shallow soup bowl, top with a sea scallop and garnish with chives and daikon sprouts if desired. (Adapted from a recipe by Chef Bryce Whittlesey).