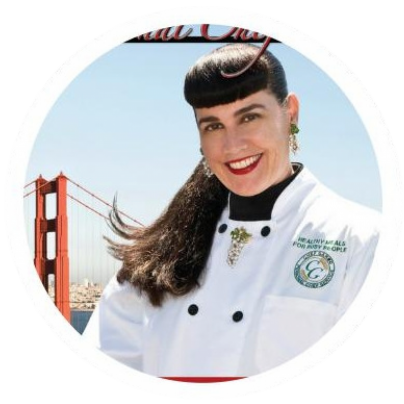 By Chef Garbo
May 4, 2013
San Francisco Personal Chef Garbo – Published Article in Personal Chef Magazine – Spring Issue 2013
High Tea for Mother's Day
For a memorable Mother's Day celebration why not create a High Tea delight with fresh spring flowers and all the fixings. Your mother will really appreciate the lovely spread which she didn't have to prepare. Plus, it's the perfect occasion to indulge in sweet and savory bite size treats.
In past teas, I have made smoked salmon tea sandwiches and peanut butter chocolate kisses… always a big hit on Mother's Day. Maybe your mother might enjoy these recipes too!
Smoked Salmon Sandwiches on Pumpernickel
Servings: 4
1/4 cup(s) mayonnaise
1 tablespoon(s) green onion, minced
1 tablespoon(s) dill, fresh minced
1 tablespoon(s) capers, drained
1 teaspoon(s) horseradish
1 dash(es) pepper
2 teaspoon(s) butter, unsalted, room temp
8 medium pumpernickel bread, sliced (slightly frozen for better slicing)
4 medium Salmon fillet, smoked
12 medium cucumbers, slices, sliced thin, patted dry with paper towel.
Directions:
In a small bowl, combine mayonnaise, green onion, dill weed, capers, horseradish, and pepper; set aside.
Spread butter thinly over pumpernickel bread slices; spread mayonnaise mixture on each bread slice. Divide salmon and cucumber slices evenly over 4 slices of bread; top with remaining bread slices. Cut each sandwich in half diagonally and then in half again to make little triangles. Transfer to individual serving plate and serve.
Chocolate Peanut Butter Kisses (Gluten-Free)
Servings: 30
1/2 cup(s) butter
1 cup(s) rice flour, fine
1 1/4 cup(s) brown sugar
1/2 cup(s) potato starch
3/4 cup(s) peanut butter
1/4 cup(s) tapioca, starch
1 medium egg
1 teaspoon(s) baking powder
3 tablespoon(s) milk
3/4 teaspoon(s) baking soda
1 tablespoon(s) vanilla
1/4 teaspoon(s) salt
1 medium bag of HERSHEY'S Cocoa, kisses unwrapped
2 tablespoon(s) sugar, rolling the balls (optional)
Directions:
In large mixing bowl combine first 6 ingredients and beat until well blended. In separate bowl combine all dry ingredients until well blended. Stir the rest of ingredients into butter mixture at Lo speed. Form into walnut size balls and roll in sugar, if desired. Place about 2 inches apart on un-greased cookie sheets. Bake at 375F degrees for approx. 8-10 minutes or until set, but not hard. Remove from oven and push Hershey Kiss into center of each cookie. Cool 5 min. before removing to racks. Cool until Kiss hardens again. Makes about 4 ½ dozen cookies.