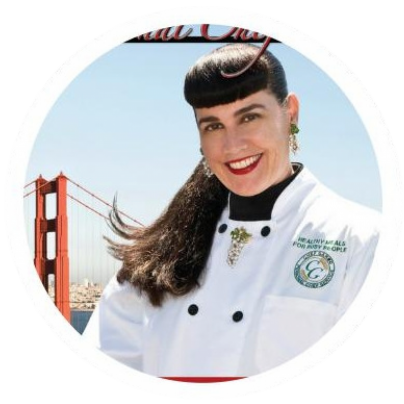 By Chef Garbo
May 1, 2016
As a Personal Chef in San Francisco, I am wondering how best to show my appreciation for Mother's Day this Sunday. After all, she gave me the gift of life. I appreciate my mother for emphasizing the importance of reading when I was a kid. And boy did I enjoy all the Dr. Seuss books, especially "Green Eggs and Ham"! Maybe that's where I got my love of all things food? She used to call me "Sugar Nose" because I could smell a candy bar a mile away… but I digress. My point is that I have some great Mother's Day brunch ideas that your Mom might like.
Whether Mom prefers a leisurely breakfast in bed or a family brunch around the table, you'll delight her with these easy homemade hard boiled eggs with pesto and ham.
Hard Boiled Green Eggs and Ham:
2 Servings
2 large eggs boiled for 15 minutes, cooled slightly and peeled
2 pieces of French bread toasted and buttered
2-3 slices of ham, sliced and briefly pan fried till warm
2-4 tablespoons of Garbo's Pesto
Place buttered pieces of toast on plate and top with sliced hard boiled eggs. Arrange 3 slices of warmed ham on the side and drizzle eggs and ham with pesto to get your Green Eggs and Ham!
Fried Green Eggs with Pesto, Ham and Potatoes
Fried Eggs with Pesto, Ham and Potatoes
2 Servings
2 pounds red potatoes, diced
1 pound ham, cubed
2 tablespoons olive oil
1 dash of salt and pepper (to your liking)
2 large eggs
3 medium scallions, sliced
2 tablespoons of pesto
Using 2 frying pans, sauté the ham until it begins to brown (about 10 minutes) keep warm. Fry potatoes until deep brown or to your liking (about 20-30 minutes) and season with sea salt to your liking.  Once ham and potatoes are done combined them with the sliced scallions, toss and keep warm until serving time. Fry two eggs sunny side up to your liking.  Place potatoes and ham mix in center of plate, top with fried eggs and drizzle with pesto sauce and serve with toast if desired.
Garbo's Own Garlicky Basil Pesto
6 Servings
5 cups basil, (about 3 bunches) packed blanched, drained
1 cup olive oil
1/2 cup pine nuts, toasted
10 large garlic cloves, minced (5-10 depending upon your preference)
1 teaspoon salt, 1-2 teaspoons depending upon your preference
1 cup Parmesan cheese, grated
Directions:
Toast 1/2 cup pine nuts in sauté pan and set aside until golden brown set aside.  Blanch the basil leaves for 30 seconds in boiling water until bright green. Plunge in ice water bath, drain & spin dry in salad spinner. (this prevents it from browning and prepares it for the freezer) Combine the basil, pine nuts, garlic, salt, parmesan cheese in a Cuisinart and blend to paste. Drizzle olive oil down the tube while processor is blending until desired                       consistency is achieved. I like mine on the saucy side versus the pasty side (i.e., add more olive oil).
Mother's Day Bonus Cake
If you're really ambitious you might consider making a Chocolate Drip Cake for Mother's Day. This cake is literally eye candy and it tastes great too.
Chocolate Drip Cake with Shards
10 Servings
For The Mud Cake:
1 cup butter, plus 2 tablespoons
1 cup chocolate, plus 2 tablespoons
8 teaspoons coffee granules, instant
3/4 cup water
1/2 cup flour, plus 2 tablespoons self rising
1/2 cup flour, plus 2 tablespoons all purpose
4 tablespoons cocoa powder, unsweetened
1/2 teaspoons baking soda
2 cups sugar
5 large eggs, lightly beaten at room temp.
5 tablespoon vegetable oil
1/2 cup buttermilk, squeeze 1 lemon into milk and let sit for 10 minutes
For the Ganache:
1/2 cup(s) chocolate, Trader Joe's Pound Plus Dark Chocolate
1/2 cup(s) heavy cream
For the Butter Cream Frosting:
1 1/2 cup(s) butter, 3 sticks
1 teaspoon(s) vanilla
6 cup(s) powdered sugar
6 tablespoon(s) milk, 4-8 tablespoons to get desired consistency of your choice. More makes easier to
Directions:
For the Mud Cake:
Preheat your oven to 160c or 320f. Grease & line your baking tins. Combine butter, water and coffee over heat until they come to a slow boil. Turn off heat and pour in chocolate stirring until its completely melted. Set aside Sift flours, cocoa, sugar & baking soda together in a large bowl & make a well in the centre Pour in the eggs,
buttermilk, oil & chocolate mixture and stir vigorously with a wooden spoon until there are no lumps. Pour into your prepared tins and bake for approx 45m (6″) and 1.2 hours (8″) removing when a skewer inserted into he middle comes out clean. Allow the cakes to completely cool in the tins before removing. Enough for a 9″ x 3″ round cake, an 8″ x 4″ round cake, a 6″ x 4″ + approx 8 cupcakes or an 8″ x 3″ square cake
For the Chocolate Ganache:
In a microwavable bowl, microwave the chocolate and cream at 20 second intervals until melted. Let cool a bit before doing the drip on chilled cake. Can use Squeeze Bottle for more control
For the Chocolate Shards:
Click here for recipe on chocolate shards.
For the Butter Cream Frosting:
Beat the butter in a mixer until smooth. Add vanilla and mix until combined. Add the powdered sugar in several additions, scraping down the sides after each addition.  Add milk a tablespoon at a time and mix together until you achieve a smooth consistency.
Step by Step Frosting of the Cake:
Trim tops off cake to flat surface using cake table and keep in fridge
Smear a bit of frosting on cake plate the place first layer. Top with frosting, Repeat with all layers. Chill 15 minutes before trim. Have cake board on top of cake
1. Trim tops off cake to flat surface using cake table and keep in fridge
2. Smear a bit of frosting on cake plate the place first layer. Top with frosting, Repeat with all  layers. Chill 15 minutes before trim.  Have cake board on top of cake
3. Trim off rough edges here and apply crumb coat to cake and pop in freezer for 10 mins.
4. Apply final coat of frosting to entire cake. Use cake plate on top/bottom of cake and apply frosting with spatula and scrape from board to board in a top/down motion. Use hand to spin and frost sides. Use pastry scraper to remove most of frosting. Run warm water on scraper and run around cake to smooth it all off. Lift off plat on top, scrape inward and freeze 15 minutes.
5.Add straws to stabilize cake layers, frost entire cake, scrap and do a final warm scrape.
Ganache Drip Method:
Using squeeze bottle or spoon drizzle ganache on chilled cake to your liking and then using off-set spatula smooth excess to center of cake top. Decorate to your liking.
DEMO VIDEOS FOR CHOCOLATE DRIP CAKES