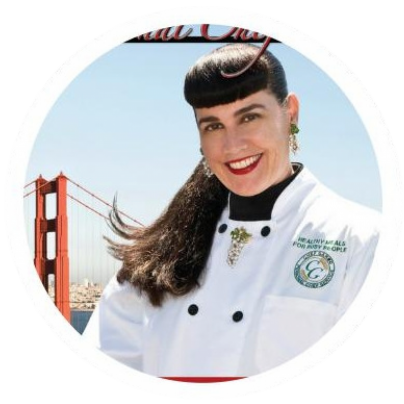 By Chef Garbo
November 24, 2011
History of Thanksgiving Foods and its Influence on Renaissance Europe
Much of the food from the early Renaissance period was left over from the Middle Ages until Christopher Columbus discovered the Americas in 1492. Soon, trade brought in new and rare delectables into the Renaissance kitchens like oranges, corn, sugar and chocolate that started with the nobility and trickled down to the farmers and peasants. It took considerable time for these victuals to catch on in Europe, but one exception was the Turkey. About 30 years after Columbus, Cortez discovered the American turkey in Mexico around the 1520s. At that time, Turkey was known as "Indian Chicken" and this bird gained popularity very quickly. In addition to being delicious, turkey made a flamboyant centerpiece for banquets when dressed in all its feathers and plumes.
In 1549, Catherine de Medici hosted a feast that featured 70 "Indian Chickens" on the menu. Other notable fowl served up during the Renaissance period included peacocks, swans and cranes. Smaller game bird might have been pheasant and herons which were typical menu fare as well. It was a common custom to serve pork alongside fried chestnuts where were abundant and easy to cultivate and store. Fruit was always a celebrated Renaissance food and was served as a last course. We would call this "dessert" today.
Garbo's Thanksgiving Feast with a Renaissance Flair
Instead of the traditional Thanksgiving turkey, I will prepare several Cornish game hens with all the fixings from the Renaissance period like meat pies, fruits and pastries. Click here for two recipes from my "test kitchen" that showcase what I plan to serve at my Thanksgiving feast this year.
May you eat, drink and be merry at your Thanksgiving feast too!
Orange Roasted Cornish Game Hens
Servings: 6
2 medium Cornish game hens, whole hen
4 tablespoons Extra Virgin Olive Oil, to rub on hens
1/4 cup orange juice, fresh squeezed (about 1/4 to 1/2 cup)
1 tablespoon orange zest or more to your liking
1 teaspoon salt
1 teaspoon black pepper
1 teaspoon ginger, ground
1/4 cup honey
Preheat oven to 400 degrees.
Clean and dry the game hens and place on roasting rack or baking sheet. Wash and zest both oranges. Take one orange and cut into quarters and place the slices in the cavity of each hen. Rub each hen with 1-2 tablespoons of olive oil and season generously with fresh ground salt and pepper. (I prefer the S&P grinders from Trader Joe's which are a course grind) Juice the remaining orange and mix 1/4 to 1/2 cup of orange juice with the honey, orange zest and ginger so that it's a thick syrupy mixture. Add more orange juice or honey to achieve the proper thickness and set aside. Roast hens for 45 minutes. Remove from oven and use a basting brush to smear the orange honey mixture over the hens every 5 minutes for the last 15 minutes. Baste with pan juices as well so that the hens have nice dark golden skins. Remove from oven and let rest for 5-10 minutes and serve with your favorite sides.
Pork, Apple and Cider Meat Pies (Donna Hay)
Servings: 6
2 tablespoons Extra Virgin Olive Oil
2 pounds pork tenderloins, cut in cubes
1 medium onion, sliced
2 medium garlic, sliced
3 tablespoon(s) flour
3 cups apple cider
1 cup beef stock
1 medium potato, peeled copped
1 dash salt and pepper
2 medium Granny Smith apples, chopped into wedges
1 package puff pastry
1 medium egg, for wash
Directions:
Heat half the oil in a heavy sauce pan over high heat. Add the pork and cook, in batched for 3-4 minutes or until browned. Remove pork and set aside. Reduce heat to medium. Add the remaining oil, onion and garlic and cook 3-4 minutes or until softened. Add flour and cook over medium low heat for 2-3 minutes. Return the pork to the pan with the cider and stock, bring to boil and reduce heat to low and simmer, covered for 1 hour. Uncover and cook for 15 minutes. Add the potato, sage, salt and pepper and cook further for 15 minutes or until the potato is just tender. Remove from heat and stir in the apples.
Preheat oven to 400. Spoon the pork mixture into 2×2 cup-capacity ovenproof frying pan or ramekins. Roll the pastry out on a light floured surface and use the ramekins to cut out enough circles of pastry to top the pies. (About the thickness of a pie crust). Trim edges, brush with remaining egg wash and press the sage leaf into the center of each pie. Bake for 20-25 minutes until golden brown.