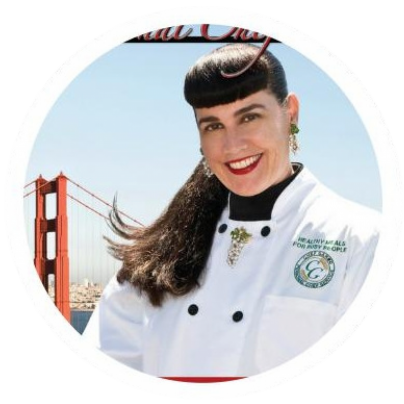 By Chef Garbo
October 23, 2015
The United States Personal Chef Association (USPCA) has attracted members from all walks of life and from many distant places. This article is about our fellow USPCA member Chef Polina Antonova, of Caliblini Personal Chef Service, who comes from Russia and resides in the San Francisco Bay Area.
Recently, Polina hosted the Local Bay Area Chapter meeting and we had the distinct pleasure of enjoying her fine cuisine which included quail leg confit, pickled quail eggs from her domesticated quails, infused vodkas, handmade cheeses, home made pastas and fresh grilled rabbit that we picked up at the local Marin Farmer's Market. Let's discover how Polina's Russian upbringing has influenced her work as a Personal Chef and what makes her tick cooking wise.
How Has Your Russian Background Influenced Your Cooking Style?
My Russian Grandmother taught me how to cook. She grew up in the countryside during the very lean and difficult 1920's and 1930's, so respect for the ingredients, using what's available, growing her own food, foraging, and making everything from scratch were natural for her. I grew up cooking and eating traditional Russian food. My Grandmother made use of whatever we could get in those difficult years. In summer we ate from our kitchen garden. In winter, we had jars of homemade preserves and barrels of pickled vegetables and mushrooms that we would combine with whatever meats Grandma could find to make hearty, healthy meals. We foraged for wild mushrooms and hazelnuts in fall, and gather young nettles for soup in spring. I grew up in the 1970's Soviet Union, where no one went hungry, but there were food shortages, so we used what was available, and did our best to grow or forage our own food, and preserve it for the winter. I didn't have to break myself out of the habit of making soup from canned chicken stock or using canned cream of mushroom soup as an ingredient. When I was learning to cook, there were no canned goods used in my family meals, only fresh ingredients that we either used in that day's cooking or we preserved it for a long shelf life during the harsh winter months.
What Are Some Of Your Favorite Russian Dishes?
Pelmeni is my favorite Russian meal. It's a "tortellini meet wonton" or dumpling, filled with assorted meats and/or mushrooms. As a child, during winter, my family would spend the afternoon before New Year's Eve making Pelmeni. In Siberia, they make Pelmeni with all types of filling: mushrooms, potatoes, cabbage, grains, fish, meat, poultry, or any combination. In Moscow, where I grew up, Pelmeni were always filled with mixed meats, and seasoned with salt, pepper, and minced onion. The traditional meet stuffing was half ground beef (not too lean) and half pork. Whenever we had venison, we would always mix ground venison into the Pelmeni filling (1/3 beef, 1/3 pork, 1/3 venison). Mom made the filling, dad rolled out the dough, and we all shaped. The first hundred or so Pelmeni would go on our holiday table, the rest were frozen on all available surfaces including our outdoor balcony, for winter dinners to come. If the temperatures stayed consistently below freezing for 3-4 months, we'd make a few hundred pot-stickers, put them in a bag, and hang it outside our kitchen window, to be cooked as needed. During the Holidays we would put a whole peppercorn into one of the dumplings. The lucky recipient could make a wish that would come true in the New Year. Although I don't cook a lot of Russian or Eastern European food in California, even for my Russian clients – the ingredients and the lifestyle are too different – I do have a few winter favorites that I make, mostly on our ski trips to Tahoe. There is much more to Russian cuisine than Stroganoff and Borscht. As mentioned earlier, I love making Pelmeni, all kinds of savory pies and pasties, cabbage rolls, hearty winter salads of cooked root vegetables and pickles, selyankas – big one-dish meal soups based on either meat or fish and adorned with pickles; springtime soups with sorrel or nettles and a garnish of chopped hard-boiled egg and sour cream. I think of myself as the biggest promoter of buckwheat, millet, and roasted beets in the Bay Area. I am also a big fan of the cuisines from neighboring countries that are very popular in Russia. For example, Georgia (known for spring lamb or sturgeon kabobs; beautiful bean dishes that include walnuts and lots of herbs; serving plates of whole fresh herbs – parsley, dill, cilantro, green onions – as a condiment at the table – you wrap them in a flatbread and eat with anything; hot, and sour sauces based on unripe fruits; meat and rice dolmas) and of Central Asian states (famous for elaborate spicy rice dishes with meat, tons of onions and garlic, and sometimes fruits; fried hand pies; tiny vegetables stuffed with spiced rice and/or meat)
What's In Your Garden?
Anything the gophers don't eat. This includes, grapes, figs, lemons, oranges, mandarins, pomegranates, alpine strawberries; herbs: rosemary, oregano, mint, thyme, sage, parsley, tarragon, chives, chervil, savory, borage, lemon balm, verbena, lavender, bay, kaffir lime, lemongrass, sorrel, horseradish; garlic and fava beans; tomatoes, onions, carrots, shallots, beans, fingerling potatoes, and peppers. I don't grow enough fruits and vegetables to use for my clients on cook dates, they are mostly for myself, my friends, and the seasonal inspiration. I rarely have to buy lemons and herbs, though.
Why Do You Keep Domestic Quails?
I would gladly surrender to the modern trend of keeping backyard chickens. Some of my clients and neighbors keep chickens and get fresh eggs every day. When I cook for them, I always save vegetable trimmings that I give as treats to the chickens. My own backyard is too small for chickens, so I got quails. They take much less space and are easier to care for than chickens, and they lay their tiny eggs every day. The eggs are a pain to peel, but they are very tasty, nutritious, are salmonella-resistant, kids love them because they are kid-size, and they make a great presentation at dinner parties. My cooking class students never fail to fall in love with the quails; one of them already acquired some that he keeps in his tiny San Francisco backyard, another one is looking to get hers. My only problem with the quails is that I miscalculated and started out with too many birds (20), so now I get more eggs then I can handle. I am always looking for new ideas for using eggs.
How Polina Uses Her Pickled Veggies and Infused Vodkas & Vinegars
During our Chapter meeting we all helped Polina prep the veggies and fresh rabbit for the grill. While we worked together, one couldn't help noticing Polina' s well stocked kitchen, with vast amounts of pickling jars that contained quail eggs, fava beans, green beans and carrots. There were lots of infused vinegars & vodkas too made with rosemary, lemon rinds, shallots and peppers, all from her garden. It was like a glass menagerie of all things picked and infused. Polina's vodka infusions are used the same way as any liqueur, for cocktails and to carry flavor into marinades, sauces, and baked goods. Polina uses all fresh herbs from the bounty of her garden to season the meals she prepares for her clients too.
What Motivated You To Become a Personal Chef?
Cooking is my passion, and I believe that home cooked meals make the whole world of difference for my clients' quality of life. With food, like with almost any other product that you use, there is a big difference between something made specifically for you and something made "for the market". This is why home cooked meals will always be superior to restaurant, takeout, or other mass-produced meals. I want more people to experience this.
What Do You Like Best About Being a Personal Chef?
It's the creativity of the process, the variety of the work, and, of course, being able to make people happy, even if only at dinnertime that I like best. And I get to share the bounties of my garden with my clients! Like many of my fellow USPCA members, I am an escapee from the corporate wonderland. Working as a Personal Chef, I get the instant gratification of seeing the beautiful product made by hand and then seeing the clients enjoy what I made (or, more often, getting a message about how good the food is in the evening – I don't get to see my clients enjoying my meals too often). This is Priceless. Doing what I like to do for a living makes me happy.
How Has Being A USPCA Chapter Member Impacted Your PC Business?
Joining the USPCA was one of the first steps in starting my business. In fact, the biggest challenge for me was to convince myself that someone would actually pay me to cook for them in their kitchen. I never looked at cooking as work, but rather a fun activity and quality time, and it was psychologically difficult to believe that there was a market out there for home cooking, although rationally I knew that there was. Seeing my fellow USPCA members growing successful businesses cooking for their clients was very motivating.
Being a member of the USPCA San Francisco Bay Area Chapter has also been very helpful in terms of discussing best business practices with them in the startup phase, and I am still learning a lot. Chef Garbo is my favorite mentor in all things marketing; other members share a lot of useful tips, from food storage to dealing with difficult clients to sources for ingredients and containers. And the best part of being a Chapter member is that we exchange referrals which helps to grow one's business.
Thus ended my conversation with Chef Polina Antonova. It is clear that Polina, like her vinegars and vodkas, has infused her Russian background of foraging for the best local ingredients into her unique California cuisine. And nothing demonstrates that better than her below recipe creations. Take a look and enjoy!
Polina's Handcrafted Recipes
Beet Pickled Quail Eggs
Makes 30
1 large purple beet root, peeled, quartered
1 cup water
1 cup white wine vinegar
1 Tbsp salt
1 bay leaf
2 sprigs thyme
5 whole black peppercorns
1 clove
2 juniper berries
1 pinch red chili pepper flakes (optional)
30 quail eggs
For the marinade:
Cook the beet root in a small amount of water until very tender. Puree in blender, adding some of the cooking water, as needed. In a small pot, combine 1 cup water, 1 cup vinegar, salt, bay, thyme, peppercorns, clove, juniper, and chili flakes (if using). Bring to a boil, stir to dissolve the salt, let cool. Stir in the beet puree.
For the eggs:
Fill a kitchen sink or a large bowl with ice water. Bring a small pot of water to a boil, add quail eggs, stir, cook 4 minutes. Remove the eggs to the ice water, let cool, crack, peel under water, starting at the dull end. Make sure to remove the tough membrane together with the shell. Put peeled quail eggs in a jar, cover with the marinade, refrigerate for 3 days and up to 2 weeks. Serve on salads or as an appetizer.
Grilled Quail
Serves 4 as an appetizer or a light main course. For a more substantial main dish, allow two birds per person.
4 quails, about 6 ounces each, cleaned, skin on
1 clove garlic, minced
2 sprigs thyme, leaves only, lightly crushed
2 Tbsp olive oil
Salt, pepper
Lemon slices for serving
Prepare the quails for the grill: remove the backbone and neck by cutting through the bird on both sides of the backbone with kitchen scissors (save the bones for making stock). Open up the bird and press with your palm to flatten. Rub with garlic, thyme, olive oil, and generous amounts of salt and pepper. Cover loosely, let sit at room temperature 20-30 minutes, or refrigerate for up to two days. Preheat gas or charcoal grill. Grill the birds over high heat (450 degrees) 2-3 minutes per side, until the thighs are cooked through but still pink at the bone. Serve with lemon slices, or you favorite sauce for game.
The quail's name used to create this recipe was Godfather. He was an aggressive male who terrorized the rest of the flock. He was absolutely delicious grilled, served with mashed sweet potatoes and black beans.
Saffron Aioli (to accompany grilled quail & pickled eggs)
Makes 2 cups
1 generous pinch saffron
2 Tbsp water
2 large garlic cloves, chopped
6 quail eggs
1-1/2 cup avocado oil
Salt, pepper
Juice of 1/2 lemon (optional)
Combine saffron with water, let infuse for a few minutes. Put saffron water, garlic, and quail eggs in a blender, blend until smooth. With the blender running on low, slowly pour in avocado oil. Season with salt, pepper, and, if desired, lemon juice.
Serve with French fries, cold meat, fish, or vegetable dishes, or just about anything.
Homemade White or Red Wine Vinegar
For the complete recipe, please find it on Polina's Blog here:
http://caliblini.com/blog/business/homemade-white-or-red-wine-vinegar/