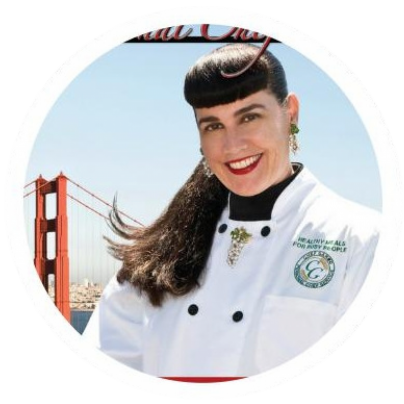 By Chef Garbo
March 4, 2008

Can Slow Food Be Sustainable in a Fast Food Nation: Personal Chef Magazine:   By Personal Chef Garbo
San Francisco Bay Area
On Labor Day Weekend, Personal Chef  Garbo based in San Francisco and Dawn Buchholz attended the Slow Food Nation '08 in San Francisco.  The tagline… "Come to the Table" certainly resonated with us and to the tables we came at the Tasting Pavilions at Fort Mason.
But first, one should know that in the Bay Area, it is common knowledge that food and politics go together like heirloom tomatoes and fresh basil. Because of this, Slow Food USA and the famed Alice Waters picked San Francisco to showcase the first-ever Slow Food Nation event.  It was an ambitious four-day political food festival and the organizers have a master plan in mind.  They're hoping to change the food policies in this country one belly at a time, by promoting products that are produced with eco-friendly farming and fair labor practices.  In short, "good, clean and fair" is Slow Food Nation's operative mantra.   It remains to be seen how well this agenda will be received in the rest of the country but for us, it was all about the food in the land of Foodies!
Ironically, with a name like Slow Food Nation, we realized that they weren't kidding.  The Food Pavilion Halls were jammed with lines making for a very "slow" food sampling experience considering we only had 3 hours to work with.  Outside, we were tormented by the amazing aromas coming from the Pizza Pavilion but the lines were an endless sea of humanity so we opted for another plan of attack.  We headed inside towards the Elixir Pavilion where they were mixing up all kinds of vegetable cocktails.  We tried the cucumber mixed drinks which were remarkably delicate yet intense with cucumber essence making for a soothing light and airy martini experience.
Even the decoration of this pavilion was light and airy which consisted of hundreds of back-lit white parasols opened and suspended from the ceiling. We heard that the Bloody Marys were like biting into garden fresh tomatoes straight from the sun drenched vines but we didn't get to experience that because guess why… the lines!  So onward we marched.  We made a move towards the Charcouterie Pavilion as the lines looked more negotiable.  The purveyors of this Pavilion had a method to the madness.  They wisely decided to pass out pate samples while we waited patiently in line to get our full charcouterie plate and have our "Slow Dough" tickets punched.  This paid off because we were back for more!  Their pate was rich and chunky, much like a pate you'd find in a small village in the French country side.  Only this was Bay Area pate which made for a truly local experience.  Chef Dawn's friend Paul worked the Pavilion floor like a true warrior too. We learned that he doesn't do lines. Instead, he marches straight to the front lines charming anyone who crosses his path with his jovial Southern drawl.  So in true battle form we divided and conquered.  While the Chefs waited in the bread and cheese line, Paul advanced towards the Wine Pavilion and in short order landed four different glasses of wine that we sampled and paired with our cheese plates.  What better way to kill two birds with one stone?  It was a fine strategy indeed! The last stop was the Beer Pavilion.  The beer here was served in beautiful, elegant cut glass Pilsners making for the finest beer tasting experience ever!    It was full bodied, rich with barley malt and had a minimal hoppy after taste… very delicious and to our liking.
All in all, this event is a milestone in terms of increasing awareness of "slow food" here in the Bay Area although a purist may wonder if everyone truly knows of its origins in Piedmont, Italy.  Slow Food Nation has their work cut out for them as this concept is certainly well embraced here but can they get the nation to buy into it?  Quite literally, "slow food" is an expensive proposition that espouses organic sustainable food produced by local farmers who are paid fairly.  And in keeping with the "good, clean and fair" mission, this idea may be hard to swallow for the folks in many parts of the country who are barely making ends meet especially in this down economy.   But in California, particularly the Bay Area, what starts here is often emulated throughout the country.  Only time will tell.